Have You Seen The Best 14 Teenage Birthday Party Venues In Sydney?
It's another year, and you're again at a loss for what to do to celebrate your teenage child's birthday. They're going through a phase in which everything is boring and friends' opinions count more than their parents' - so you really, really want to get this right. 
Sound familiar?  Then we're here to help you!
Organising a birthday party is no mean feat. One has to keep in mind all sorts of things, from budgets to your child's age and preferences. So to take the stress off, we've curated a handy list of 14 teenage birthday party venues in Sydney! They all have their unique features, so you can choose the one that fits your requirements the best. 
Here we go:
Entermisision Sydney is a virtual reality escape room game! If you don't know what that is - they're safe, supervised locked room environments, in which you have to solve puzzles and take on challenges to be able to 'escape'. 
Ours has an added layer of coolness - we take our audience on virtual reality adventures! The escape room environment is created with a headset, on wearing which, you step into many different fictional worlds. From fighting aliens in space to fighting supernatural creatures in creepy old towns to fighting a super villain inside his own brain - you can do it all! 
We also do realistic special effects, with the smell of gunpowder, smoke, heat and wind. What's more - our hand tracking technology means you don't have to use a controller, making it all the more realistic. 
The completely immersive roleplaying game is unlike any other experience and has to be played to be believed.  
We provide the whole package, from snacks and drinks, to decorations, to games (both virtual and vintage arcade ones), a host and an ice-cream cake. There are different packages depending on how many people are there in your group. We also have online and printable escape room events, hosted by our team, just in case you can't make it all the way out here.
And if you want to go old-school, we've got the arcade games as well as Nintendo Switches for you to do so! Take a look at all our exciting missions here.
2. Kingpin Darling Harbour Arcade
This is one of Sydney's best-stocked arcades. It offers bowling, laser tag, parties, VR, karaoke, archery, skateboarding and lots and lots of vintage and contemporary board games. So safe to say there's something for everybody - from the gamers to the athletes! 
The waterfront location has a birthday party venue that offers lots of activities, food and drinks in different packages for different ages. It also takes care of hosting, invites and decorations.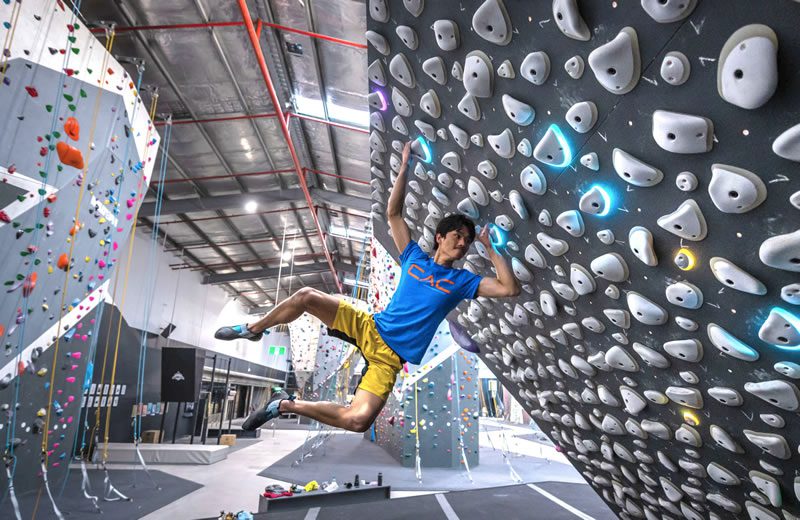 Another option for your teenaged ball of energy is to take them on a climbing adventure - and that's exactly what Climbfit is built for. Your child and their friends can try out the climbing walls, cargo net, and fun ladders. It's a great way to stay fit and healthy, too. And they can enjoy their cake and snacks with their friends at their private table after the rigorous courses.
4. iFly Downunder Sydney West
Got a thrill-seeking teen at home feeling bored on their birthday? Take them and their friends indoor skydiving! Trainers are at hand to provide one on one instruction. The venue provides all the equipment, including the suit, helmet and goggles. Honestly, just putting it all on feels pretty cool, even before the actual flight. They also provide  video footage of the flights, so you can cherish the memories forever!
5. Luna Park
This adventure park makes for a traditional birthday - but the good thing about tradition is that you know it will be a smash hit every time. The park has rides to suit everyone. We particularly love the roller coaster called "The Big Dipper," and Australia's largest roller coaster, a huge log flume ride called "The Wave"!
The venue has the option for an Unlimited Pass for each person attending. There are catered party packages, but you can also take a DIY picnic.
6. Pretty Popup Picnics
On the subject of picnics - why not take out a picnic party for your teen in one of Sydney's serene parks? This is a great idea for your quieter teens who just enjoy good food and good company, rather than rushing off on various activities.
What's more - there are picnic companies in Sydney which can arrange such outdoor celebrations for you, and one of them is Pretty Popup Picnics. It can arrange parties for up to 10 to 15 people with rugs, cushions, tables, table cloths, table ornaments, drink dispensers and stands. Delivery and set up can be arranged for. Options for venues i include Neilsen Park, Clifton Gardens, Parramarra Lake, or harbour pools like Little Manly Cove or Northbridge Baths.
7. TreeTop Adventure Park Sydney - The Hills
This park is the perfect place for energetic, adventurous teens to spend their birthday at. It has hiking and climbing courses at different levels of difficulty. It's also located centrally, making it very accessible.
The venue offers organised party packages, but it also allows you to organise your own party. This could mean having a picnic, playing mini-golf, throwing darts or even climbing up the treehouse for a bird's eye view of Sydney. What a lovely way to spend your birthday in the outdoors!
8. Sydney Trapeze School Parties
This is for the acrobatic kids - you know, the ones interested in cheerleading and gymnastics and doing cool physical tricks. What better gift than taking them to a trapeze training school?! They'll almost literally be on cloud nine as they learn to fly gracefully through the air with their friends. The sessions are designed for groups and are conducted by trained instructors with strict safety precautions. Give it a try!
9. Go Karting and Paintball
And back to some good old-fashioned fun. Spitfire Indoor Go Karting and Paintball offers combination packages. You can have private access to  both the activities as part of the offer. Other places to try are Luddenham Raceway which has an outdoor go karting track and paintball; Ultimate Paintball has Sydney's largest outdoor paintball park; and Heartbreak Ridge Paintball provides affordable packages.
10. Snorkelling at Shelly Beach
This one's for the water babies. If you've got a birthday kid and a group of teens who love the sea, why not take them to meet some of Sydney's sea life?
One of many options is Shelly Beach at Manly. Snorkelling equipment can be rented nearby and you can even book a guided snorkel tour. The beach also allows BBQs and picnics, in addition to the usual swimming, sunbathing and of course, surfing. There's also the option to rent out kayaks for a bit of peaceful boating.
The area is dotted with restaurants and cafes - so there will be no shortage of places to cut some cake and enjoy a birthday meal afterwards. You can also give Gordons Bay and Clifton Gardens a shot as venues for this birthday activity.
11. SEA LIFE Sydney Aquarium
Brainiacs, unite! This is an ideal spot for your teen if they happen to be someone who enjoys educational tours. The SEA LIFE aquarium is home to hundreds of species of marine life, many of them unique to Australia, but also from all over the world. There are nine interactive zones with specific aquamarine habitats and themes like Great Barrier Reef Experience, Shark Valley, Dugong Island, Penguin Expedition and others. Passes of different values are available depending on how many exhibits you want to visit. And there are plenty of foods, drinks and gift options.
12. Taronga Zoo
One more for the nature lovers - Taronga Zoo is the largest non-profit organisation devoted exclusively to the care of Australian native animals. It is home to more than 2,000 animals! Many of them are endangered due to their limited habitats. So if you've got a budding David Attenborough at home, Taronga Zoo is the ideal birthday spot.
The zoo actually has a teen birthday party venue! It can be booked for up to 150 guests. The actual timings vary depending on the time of the yearn to ensure the comfort of the animals. So do check them before heading there.
13. Madame Tussauds
Sounds like an unusual place to hold a party for teenagers, no? But Madame Tussauds, the famous museum of wax figurines of equally famous people, has a special birthday party package. They have a dedicated birthday party area and packages that come with hosts and guided tours. If your teen and their friends are into celeb-spotting, well, this might just be the ideal birthday plan for them!
14. Bop Till You Drop Disco
And finally - is your teen a dance lover? Arrange a mobile disco for them! Bop Till You Drop is a travelling disco that delivers all you need to set up your own dance party, right in your own home or community. Packages last for up to 2 hours with 30 guests. They send a DJ, PA system and lights, and even a karaoke microphone so the guests can sing their hearts out! We especially love the fact that they specifically take the birthday kid's music tastes and hobbies into account while setting up.
And that's it! Those are the 14 top birthday party destinations for teenagers in Sydney. Let us know which one you loved the best - and do visit us at Entermission Sydney to ensure your teen has a blast at their next birthday!