LOOKING FOR
A FUN AND UNIQUE
VACATION CARE IDEA IN SYDNEY?
You've come to the right place!
Ranked Top 10 Most Popular Kids Activity by Active Activities
You'll be a hit if you book this venue for vacation care activities!
A

FUN,

CUTTING EDGE, UNIQUE,

COLLABORATIVE VACATION CARE

IN SYDNEY FOR ALL AGES!!
Holidays coming up but you have nothing planned with restless children at home? Or busy with work and you are looking for that quick yet fun holiday activity for your child?
Your search ends now as our Virtual Reality experiences is the perfect solution to your holiday worries and guaranteed to keep your children entertained and amazed!!
Entermision offers amazing virtual reality escape room adventures designed to appeal to all ages (ages 8+ years), whether they be interested in video games or not.
We are Sydney's ONLY VR with hand tracking and real-life special effects, where you work as a TEAM to solve the puzzles within your 60 minutes time frame. It is full of brain-wrecking puzzles and 'This is so fun' moments as you try to escape with your team!
TIME FOR THE TOTALLY FUN, UNIQUE, INTERESTING AND COLLABORATIVE VACATION ACTIVITY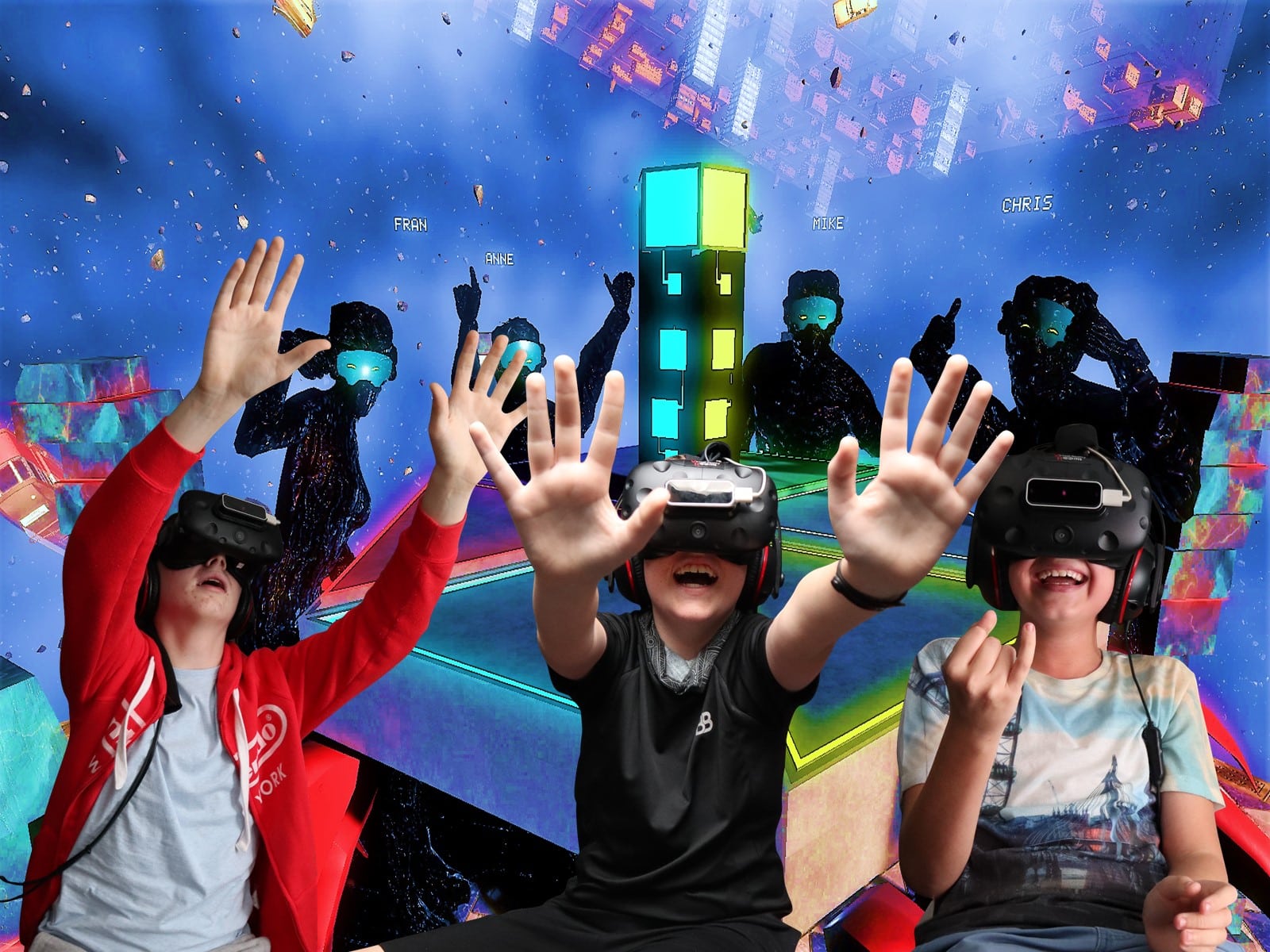 What is involved in your VACATION CARE?
Kids experience a virtual reality team based escape game which requires good teamwork, problem solving, lateral thinking and communication, where they hear, see and interact with each other in amazing worlds. Everyone finds a contributing role in this unique virtual reality experience.
Space Heroes: as a Super Team, be teleported onto Eden Space Station to destroy the dark portal and save Earth in 60 minutes. Fly through outer space, shoot lasers and master other special abilities. Use keen observation and critical thinking to solve puzzles as a team and most of all have FUN!!
If you're looking for unique, cutting edge Vacation care activities in Melbourne, for learning that's fun and will have the students excited and talking about for ages to come, then look no further than our Melbourne VR Escape Rooms.
If you are interested in booking, just head down the page and fill out the contact form with your details. Our Adventure Masters will get in touch with you shortly.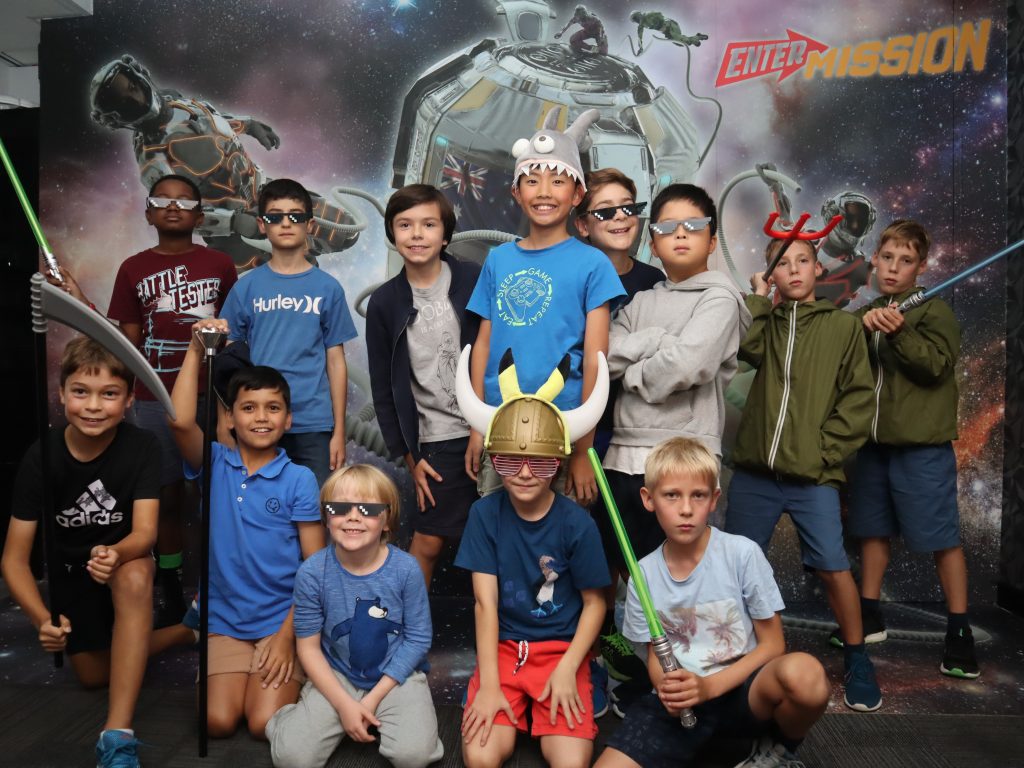 LET'S ANSWER SOME OF THOSE QUESTIONS
WHAT IS THE COST?
Please fill in an inquiry form for pricing details
 WHAT ARE THE OPTIONS?
We have two options available for your experience – our in-house VR Escape Rooms or our online escape room experience (for remote games anywhere).
WHAT GROUP SIZES AVAILABLE?
For the on-site VR escape room, we have 3 rooms. Each room holds up to 6 players (maximum 18 in a single session).
For 19-36 people, we offer a 2.5 hour experience where half the group undertakes the VR Escape Room Adventure Games while the other half enjoys short VR experiences and Nintendo Switch games in our reception and VR arcade areas. The groups then swap so that everyone can enjoy all activities.
For hosted online escape rooms we can accommodate +100 people in a single session.
HOW LONG IS THE EXPERIENCE?
Our vacation care programs in SYDNEY are for up to 18 participants last 1 hour 15 minutes (including briefing and post-adventure activities with up to 60 minutes within the VR escape room). For more than 19 participants, allow 2.5 hours. We can tailor the experience for any duration to suit your needs.
WHAT IS THE AGE LIMIT?
Recommended age for Space Heroes is 8+ years and Mad Mind is 15+ years, although Mad Mind has no real "horror" or gore but rather contains some surprises and we've had children as young as 8 years play and enjoy the adventure.
WINNER OF TripAdvisor's Travellers' Choice 2020 award! We're in the top 10% attractions worldwide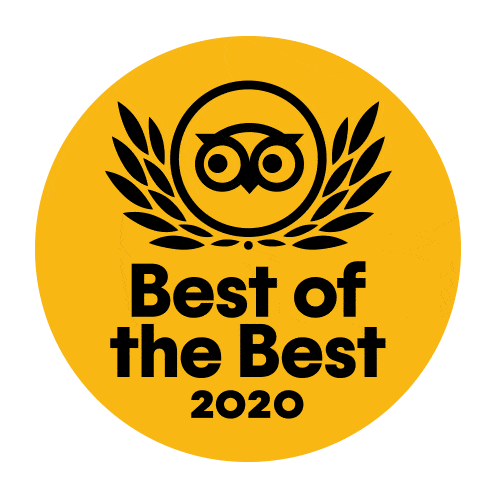 SAVE THE WORLD IN SPACE HEROES AUSTRALIA'S ONLY HANDTRACKING VR ESCAPE ROOM EXPERIENCE
Space Heroes: as a super team you're teleported onto Eden space station to find a way to close the park portal and save earth in 60 minutes and make it back out alive.
PARTY ROOM WITH GROUP VR ARCADE
EXPERIENCE AND NINTENDO SWITCHES
60-minute access to private room with Nintendo Switches and shared VR headset playing short virtual reality games while other enjoy watching the VR action on the screens.
* Minimum 12 attendees for VR Arcade inclusion. For less than 12 attendees the VR Arcade Experience can be added to the package for additional $100
KIDS WILL RAVE ABOUT THE FUN
AND CARERS WILL LOVE THE EASE
Kids will rave about how much fun they had! We get many birthday bookings from vacation care kids as they loved our experience!
Carers will love how smoothly and easily the experience is run!
VIRTUAL REALITY
ARCADE EXPERIENCE
As part of your package (for +30 participants), your group will get to experience our VR arcade to keep your VR fun going! 
Enjoy games such as Richie's Plank - Take an elevator to Richie's plank that sits 80 floors above the group, then dare to walk to the end! It's a short experience which will cause big reactions - exhilaration, fear and laughter. 
Beat Sabre - A unique VR rhythm game where your goal is to slash the beats (represented by small cubes) as they are coming at you.... dance to the rhythm while cutting the cubes and avoiding obstacles.
HERE'S WHAT PEOPLE ARE SAYING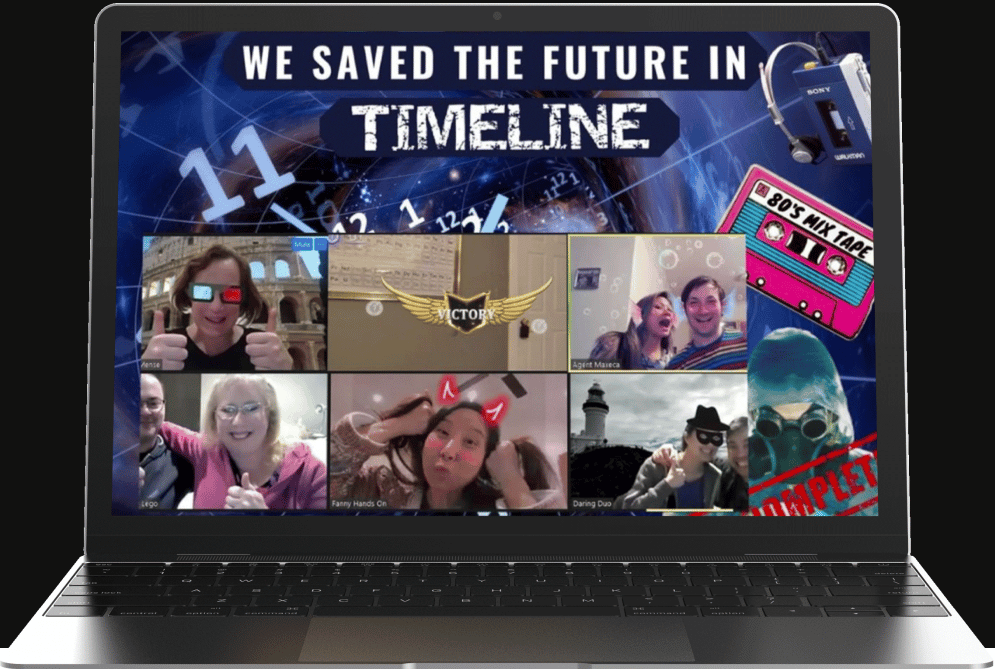 HOSTED ONLINE
ESCAPE ROOMS
We also offer your school the ability to have your students use their problem-solving skills online with our Hosted Online Escape Rooms. As much FUN as a REAL life escape room - but all online!
Within our BRAND NEW online escape rooms, you'll see a 360-degree view of real-life rooms with the ability to interact with items in the room and the added benefit of all team members being able to explore the room independently or together. This is fully hosted with real-time assistance from live Adventure Masters.... can your group solve the clues???
Play from anywhere and have a blast with teachers and students alike.
VACATION CARE CONTACT FORM