14 Fun Games To Play At Children's Birthday Party
How stressful can it be to plan a child's birthday party? All the parents in the house are screaming their lungs out. Very much stressful, as it proves to be. 
However, you can resort to some easy methods that can keep your stress low and still have a hell of a birthday! For starters, you can book a party venue to reduce stress. They shall arrange all the necessary decorations, and all you have to do is give them any specific directions if you have any. 
Then at the party, you can arrange for games for the kids to play, which shall keep them engaged for the rest of the night. 
If you're exploring decorators and suppliers in Sydney, here is a list of the best ones in the city. 
Explore our blog to find 14 fun games to play at a children's birthday party! 
1. Nerf War
Water guns or Nerfs! Get a couple of water guns or Nerfs for your kid and their friends. It is a nerf war for hours and hours in your backyard! 
The best birthday party game for kids, apart from a bit of monitoring and the rest of the time, you can be at rest!
2. Movie Night!
For a movie night, it necessarily doesn't have to be a sleepover. After all the cake cutting and pomp, you can settle down the kids for a fun movie or a classic one. 
Some popcorn and candies shall go a long way to keep your children glued to the television and stay silent. Birthday night sorted. 

3. Pictionary
A kid's Pictionary can prove hilarious with all the kids trying to enact it in their best way! A fun way to keep the party light and jolly! 
All you need is a whiteboard or a piece of paper stuck to the wall, a marker or a few pens and you are all set! 
Divide the kids into teams of two and get the competition going! 
Head here, if you are looking to surprise your kid and know not how. 
4. Paint
Painting is something that all kids love! You give them some paints and a brush, and they are making their dreams come true! 
You need a few art papers, colours, and paintbrushes! You can give them a theme, or you can tell them to be as creative as they can be! You might get good artwork to hang around the house! 

5. Tug of War
Tug of War is a game that shall put the kid's strength to the test! 
All you need is a rope and a marker to divide the territory into two. Divide the kids into teams of two and watch the game go on! 
The goal is to pull the opposition towards your side.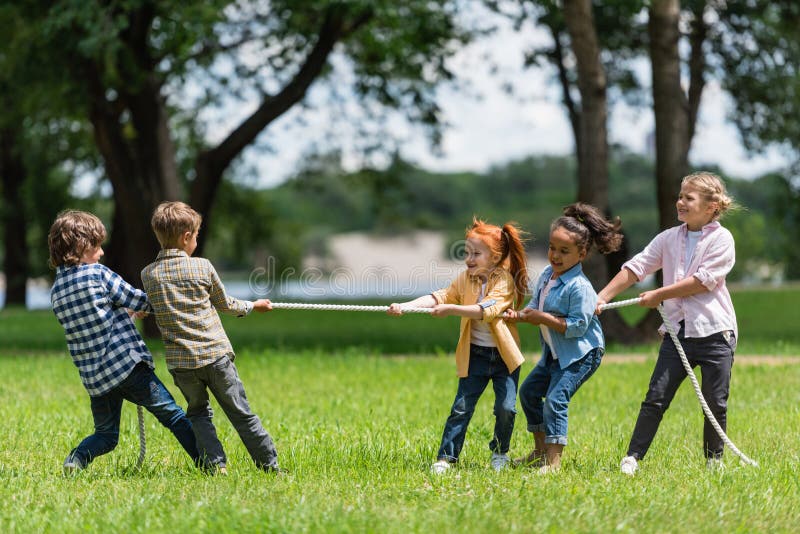 6. Karaoke
Hire a karaoke box and play their favourite tunes. They shall keep on going until the night is ripe. 
Join them to show how it is actually done without getting drunk, of course! And if the kids are bad at singing school rhymes, you can even make them sing them. 
For more birthday party game ideas, head here. 

7. Petting Zoo
You can either take your kids to a pet cafe or get a pet in your home. The focus of attention shall be the pet throughout the party! 
Every second of it shall be gone in complete aww! If your kids love pets, then this is the best party idea for kids! 
8. Hide & Seek
Hide & Seek can continue for hours. Every kid can take turns closing their eyes while the others hide! 
Hide & Seek makes a great game if you have a farmhouse! 

9. Three-legged race
An ultimate birthday game idea, divide the group into teams of 2. One kid's left leg is tied to another's the right leg, and the race is set! 
The winner gets a special prize!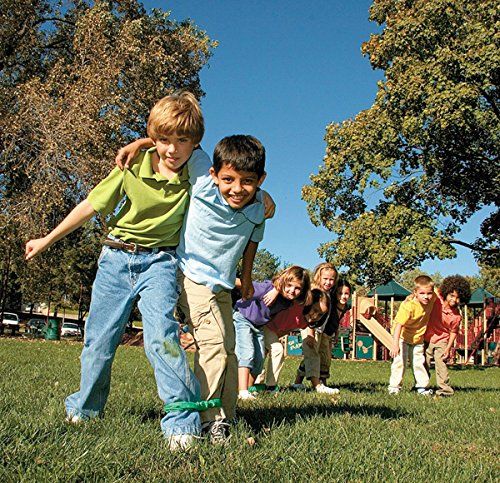 10. Musical Chairs
One of the unique birthday party ideas, bring a speaker to the party with some chairs. Two chairs should be less than the number of children at the party. The music is played, and the kids are asked to go around the chairs, which are placed in a circle. 
Stop the music deliberately, and when you do that, the kids need to find a chair to sit down on. The one who doesn't find a chair to sit in gets disqualified. 

11. Potato Sack Race
Get potato sacks and get the kids to wear them from the toe up to the waist. Place them in a straight line, and when the whistle is blown, they need to hop and reach the finish line. 
The first to reach wins! This can be repeated until each one is a winner or until they get tired. 
12. Jenga
Jenga is crazy! It puts the kid's patience to the test and all the sensory nerves. 
Get a giant Jenga (not too large to hurt the kids) and get the kids to play! This shall go on for quite some time. 
To explore different kinds of birthday party ideas, head here.
13. Car Racing
Another ultimate indoor game for kids, ask them to bring in their favourite cars! Make slanting lanes by using strong cardboards, or you can even buy play lanes. 
The race is about racing their cars through the slanting lanes. As the kids boast about their favourite cars and how great they are, this race shall actually prove it! 

14. Ring Toss
This is generally a drunken game for the adults, but hey, don't rip your kids off their games too. 
Bottles are to be placed in a specific space, or you may put them together as well. Rings in the size of the bottlenecks are to be thrown from a distance. If the rings are placed inside the bottles perfectly, it's a point!
All these different games cannot be played within a single night. But if you are starting in the morning, then all these activities shall keep you and your kids engaged the entire time. 
If you are looking for places to celebrate your kid's birthday, explore here. For more fun games to play at a children's birthday party, head here. 
Escape Rooms are a great way to celebrate a kid's birthday party! Head over to our website to know more about escape room birthday parties for kids.