Swap beaches for these rivers and waterholes near Sydney this summer
Beat the beach crowds while you cool off during the Summer months.
As summer looms, people are going to start making a beeline for Sydney beaches.
Which is perfect...if you're looking for sand, surf, sun...and crowds.
If however, you're looking for something different…
...amazing naturally formed pools, refreshingly chilly turquoise waters, and opportunities for everything from swimming to hiking…
...then you should ditch the beach, and go for swimming holes and rivers.
Here's the top 10 swimming pools and rivers near Sydney where you can beat the summer heat and the beach crowds: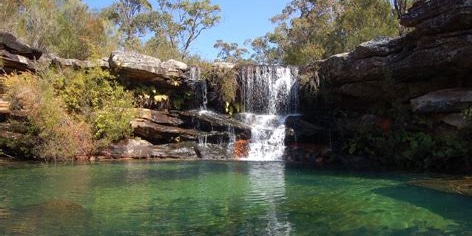 Located in: The Royal National Park.
A short walk from the Audley boatshed, this popular swimming hole actually goes on to flow into the Hacking River.
A mesmerizing waterfall, emerald green water, and spectacular views are what make it a must-visit during those warm summer months.
You can plan an entire day's picnic at this spot.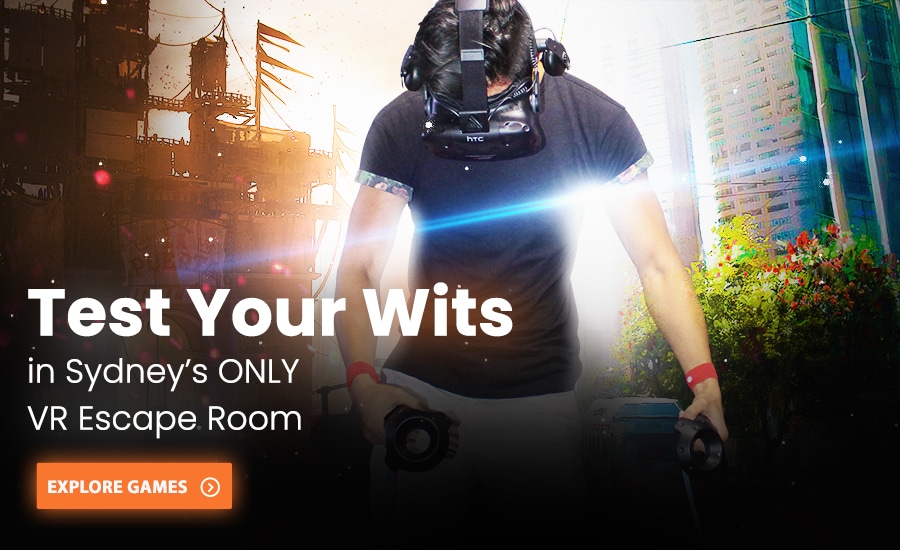 How to reach it: A half hour trek through the Uloola Walking Track, which starts near Waterfall Train Station.
Or you can take the Karloo Walking Track from Heathcote Station.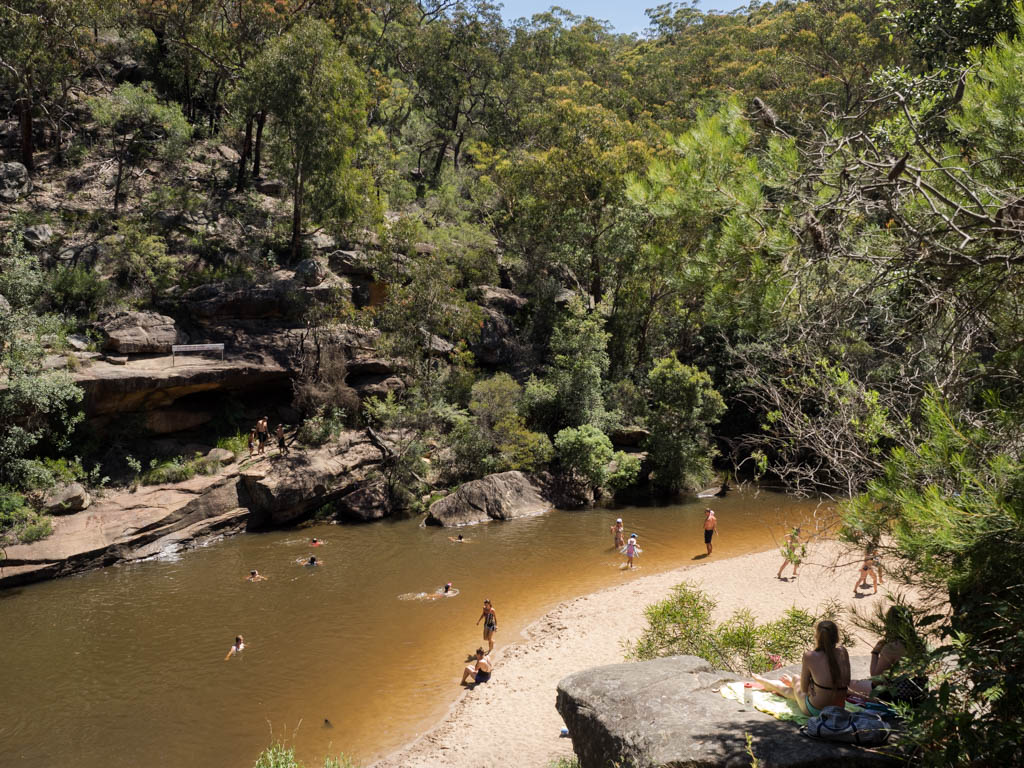 Located in: Blue Mountains National Park.
Why do they call it the 'Jellybean' Pool?
Well, the jury's still out on that question.
Some say it's to reflect the actual shape of the pool.

Others say it's aimed at its target clientele - children.
Whichever it is, this swimming hole located in Glenbrook Creek, is a huge draw for children and their parents alike.
One of the best things about this pool is that it's got a rocky area that adults can explore, and a little sandy beach right opposite where children will have a jolly good time!
Two precautions to take at Jellybean Pool
There's a section of the pool that's shallow, and safe for children. But the water gains depth elsewhere. You should always accompany young children in the pool.

The water in front of the rock platform may not be very deep. Do NOT jump off the rocks into the pool; you might hurt yourself.
How to reach it: Enter Blue Mountain National Park through the Glenbrook entrance (accessible from the Great Western Highway via Ross Street and Bruce Road) and follow the Jellybean Track.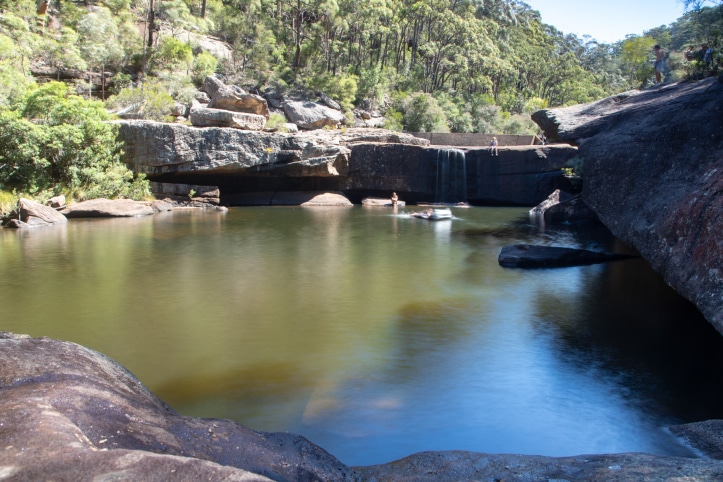 Located in: Dharawal National Park.
If you're up for a bit of a trek, Jingga Pool might be just what you're looking for.
A refreshing freshwater swim with stunning views of Aussie bushland is the reward you deserve after a 2km long demanding trek along the Jingga Track, through swamps, forests and waterfalls.
Things to look out for at Jingga Pool
The water is deep, so you CAN jump into the pool from some of the sandstone rock formations around it.
It would be advisable to do so when the water's clear and you can check what the pool floor looks like.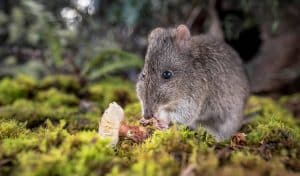 When you visit, try to catch a glimpse of potoroos, the local marsupials.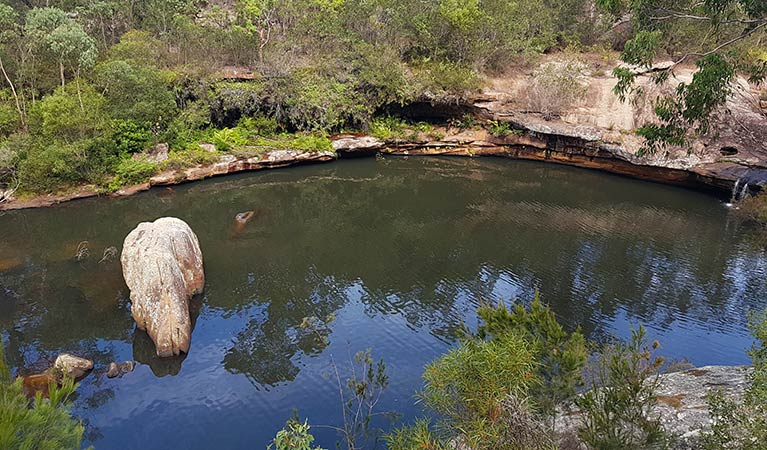 A little further on lies Minerva Pool, another swimming hole which at times can be quieter than Jingga.
One little catch is that this pool is regarded as a sacred women's place by the Dharawal people, after whom the national park is named.
So, if you want to respect their traditions, only the women among your group should swim here.
How to reach it: Enter the national park from Victoria Road, and go left till you reach the Jingga Track (it's marked by a signpost). Follow the track till you reach the pool.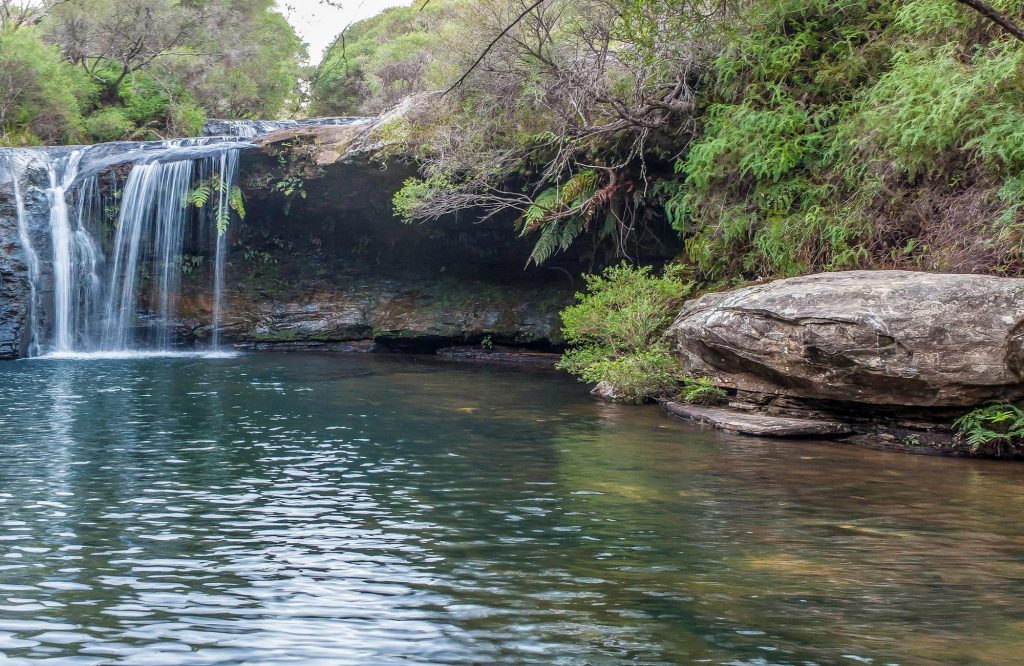 Located in: Budderoo National Park.
If you're up for a bit of chill and swim this bushland swimming hole in Budderoo National Park, near the village of Robertson, is your ideal destination.
Literally...the water in this swimming pool is pleasantly cool during summer months, and somewhat chilly in winter.
The Devils Hole camping ground is one of Australia's highest camping grounds. And it's within walking distance of Nellies Glen.
The glen has a shallow side, which makes it good for kids.

They'll also like exploring the various kinds of ferns, fungi, and orchids that can be found all around the glen.
How to reach it: From Robertson, Jamberoo Mountain Road will take you to Cloonty Road, and in a while you should be at Nellies Glen picnic area.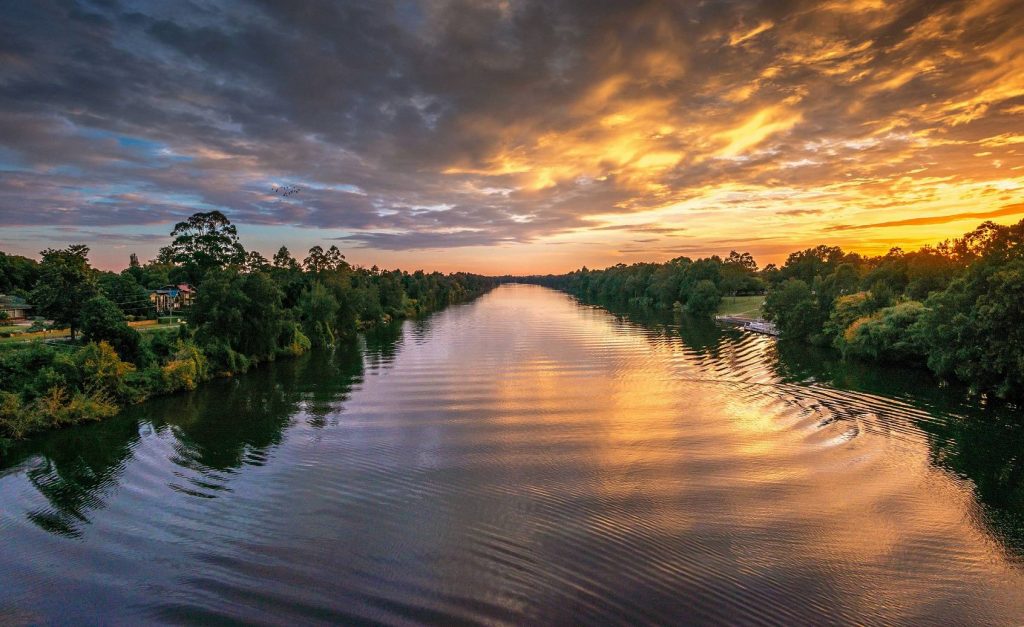 Located in: Blue Mountains National Park.
Along its course from Robertson to Yarramundi, the Nepean River takes on a variety of forms, from a serenely flowing sheet of water to gushing rapids.
You have a whole range of activities, like
a refreshing swim,

to fishing for bass, carp, eels and perch,

to even kayaking,
That will make your day at Nepean River well spent.
Beating the summer heat at Nepean River
Here's you can beat the summer heat at Nepean River:
Start off along the Nepean River Walk, which starts near Glenbrook, at the Euroka campground.

Trek through rainforest till you arrive at Fairlight Gorge.

That's the best spot for a long swim and a hearty lunch (and you'll need a hearty lunch after your trek).
How to reach it: The Great Western Highway will take you to Glenbrook. Then, take Ross Street and Burfitt Street/Bruce Road till you reach the national park gate.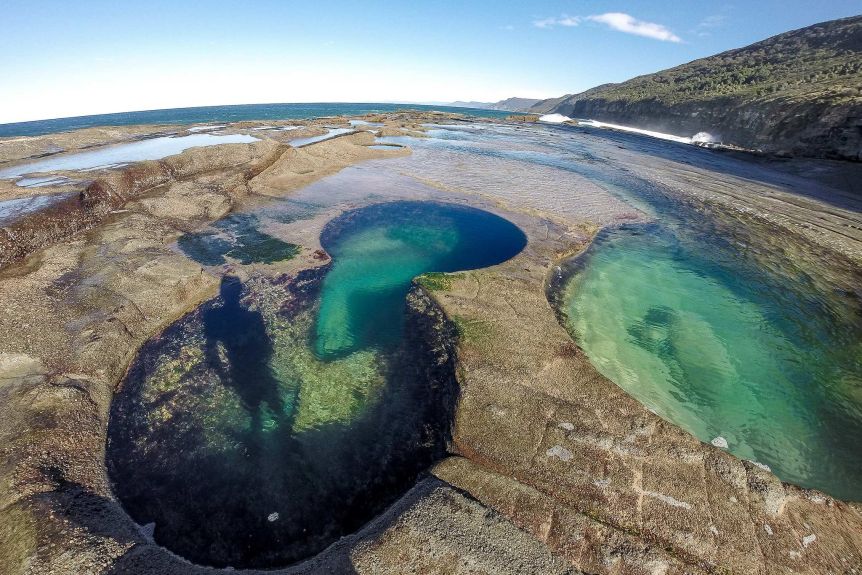 Located in: Royal National Park.
If you're looking for a bit of a thrill, and social media glory, you should head for the Figure 8 swimming pools near Sydney.
Described both as a dangerous rock shelf and a social media hotspot, it's one of the most popular swimming spots near Sydney at any time of the year.
What are the Figure 8 pools?
These natural swimming pools were formed by are a number of sinkholes on a rock shelf near Burning Palms Beach in Royal National Park.
One of them is shaped like the number 8.
How was the Figure 8 pool formed?
Two sinkholes merged, creating the appearance of the number 8.
While visiting the Figure 8 pools, you should…
Keep an eye on the tides.
Insta-crazy adventurers have been injured (and in some cases, killed) from sudden waves lashing down from the ocean at high tide.
If you do visit, check this tide risk forecast tool developed by the Parks and Wildlife Service.
How to reach it: You need to reach Garawarra Farm of Garie Beach, from which it's an over 2 hour walk. Neither the walk nor the rock shelf (where the pools are) is suitable for taking babies or young children.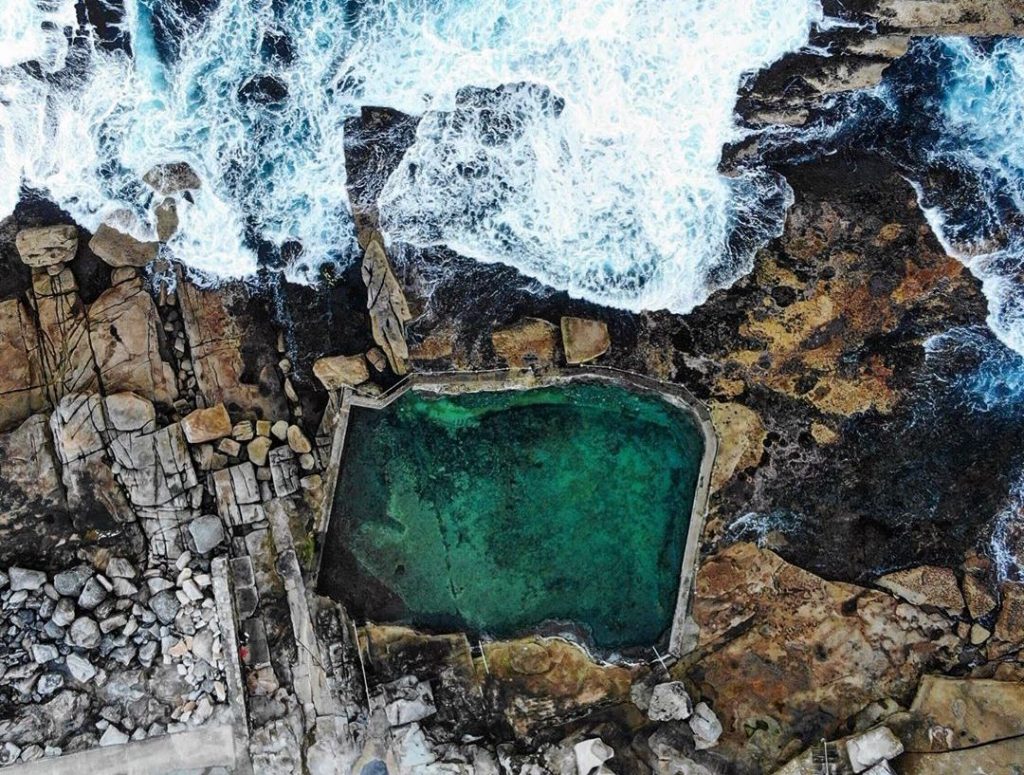 Located in: The Blue Mountains and Kanangra-Boyd National Parks.
Officially the only wild river in New South Wales, Kowmung River has a wealth of unparalleled experiences to offer to anyone looking for a brush with genuine wilderness.
Beating the summer heat at Kowmung River
Have a swim that will really rejuvenate your body.

Hiking and mountain biking. Cars aren't allowed anywhere near the river, to maintain its near-pristine condition.

Go fish. Trout, carp, and perch are the most common.

Catch a glimpse of brush-tailed rock wallabies, stuttering frogs and south-eastern petaltails.
Campgrounds: If you want to set up camp, you can check out the Dingo Dell camping area, and the Boyd River campground.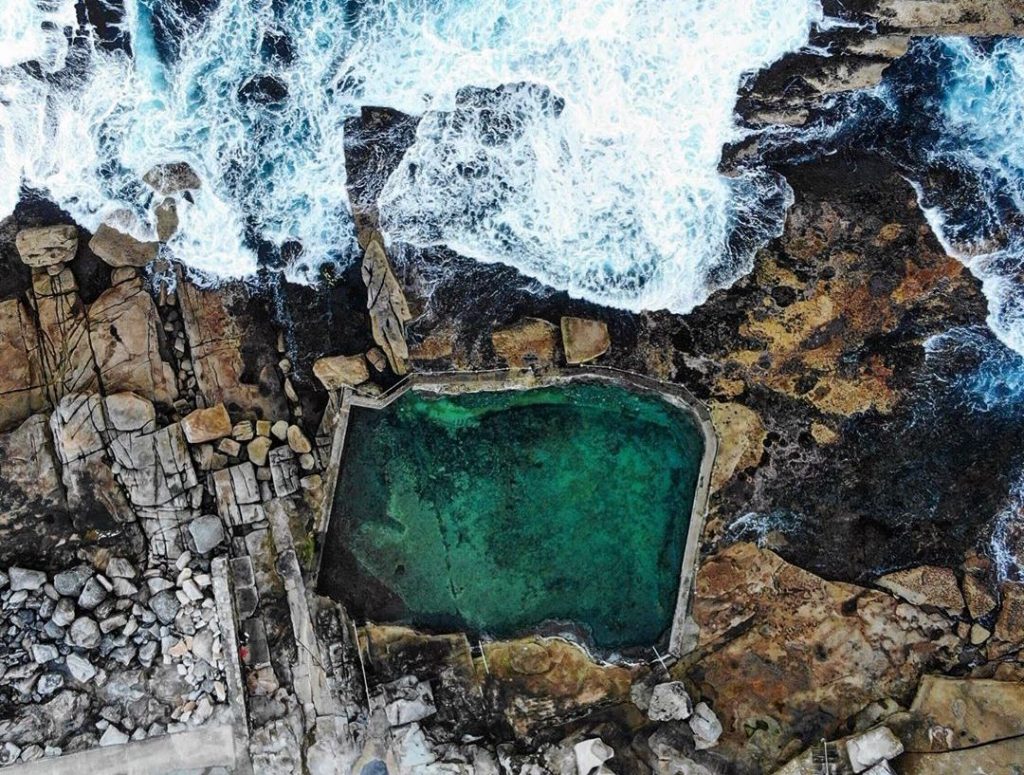 Located in: Near Maroubra Beach.
A day spent at this natural swimming pool can be expected to be a day spent in peace and quiet.
Mahon Pool is separated from the very popular Bondi and Coogee by several beaches, which absorb most of the tourist froth, leaving Mahon Pool relatively secluded.
Larger than most ocean pools, it's a sight for sore eyes on a hot summer day.
The tide occasionally brings visitors from the oceans into the pool, and many people find it a lot of fun sharing the pool with them.
Children in particular enjoy gazing at the rock pools that are found all the way around the public pool, teeming with ocean life.
How to reach it: It's a half hour drive via Anzac Parade and Storey Street till you get to the Marine Parade car park.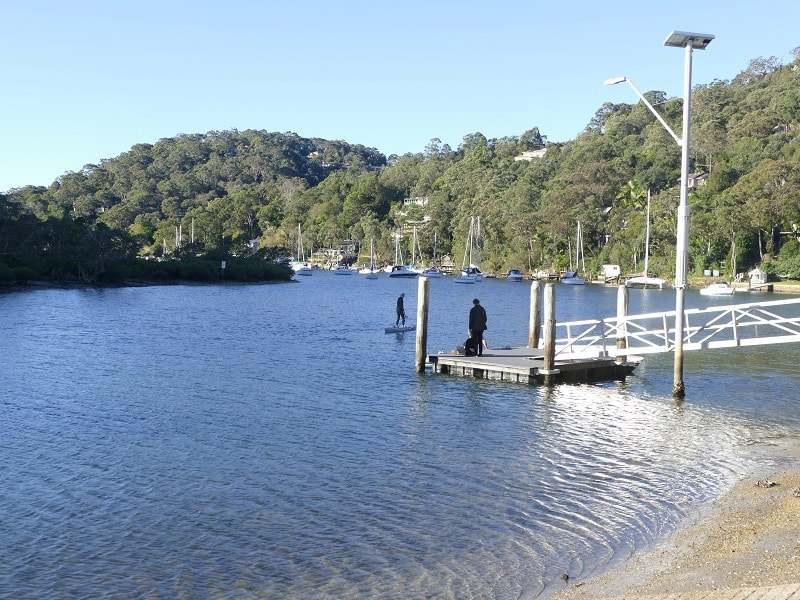 Located in: Church Point, where McCarrs Creek meets Cicada Creek. Ku-ring-gai Chase National Park is right opposite the reserve.
The water is not too deep, making this a great spot for children 'swimmers' to splash around and have a lot of fun (under adult supervision). Adults too will enjoy lolling around.
This spot is very popular with dog owners, as it has an off-leash dog area from Monday to Friday.
With spectacular views over Pittwater, BBQ ovens, and plenty of seating space, McCarrs Creek Reserve is a great place whether you want to have a picnic with friends or just some quality 'me time'.
Finally, it's also a good fishing spot, in particular for salmon, bream and kingfish.
How to reach it: It's a half hour drive along the M1 and McCarrs Creek Road.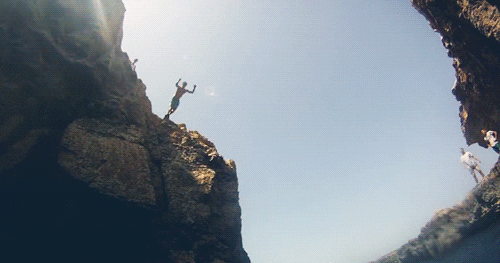 Located in: Dargan Creek Reserve.
We have seen a river that offers opportunities for kayaking.
We have seen swimming pools that are difficult to approach; and where you need to watch out for ocean waves.
But we are yet to see a swimming hole that offers opportunities for doing refreshingly thrilling dives into the chilly waters of a creek.
And that is where the Clarence Dam Cliffs come in.
There's a canyon further downstream that will be of especial interest to you if you're into rock climbing.
How to reach it: Follow the M2 out of Sydney, and then the M7, which should take you to Bells Line (Chifley road). Follow it till you get to Newnes Junction, and then make a left, followed by another left, which will get you on a dirt track...and follow that into the car park.
I hope you have a wonderful time this summer, checking out these natural swimming pools and rivers near Sydney.
And if you're looking for an indoors adventure with friends, you should definitely take a look at Sydney's best VR escape room.