Top 13 Corporate Team Building Activity Organizers In Sydney
There's never a bad time to take your team on a team building activity. It serves as a day out, brings people closer, and gives them renewed focus and purpose.
Team-building events can also be used to reward people for good results. They can be combined with staff retreats, too - so it's not just all work and no play!
And when you're in a city like Sydney, which has an almost endless variety of team-building exercises, it's not difficult to find the perfect one for your team either. 
Here are 13 corporate team building activity organizers in Sydney to help your team get its groove on! They will walk out of these exercises as better collaborators, problem solvers and communicators, and with a spring in their step.
1. Entermission Sydney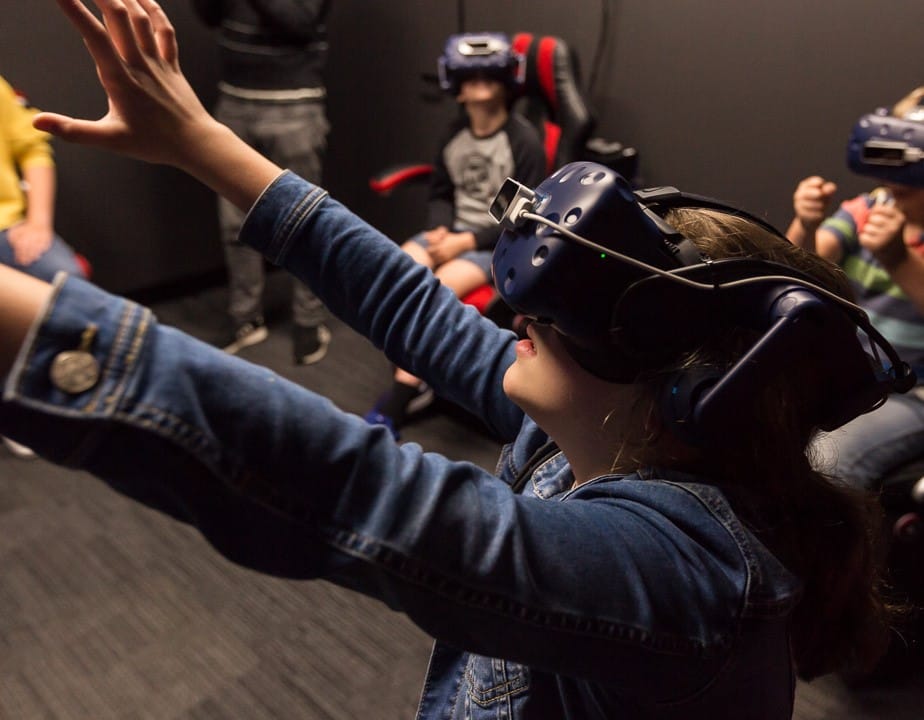 Entermission Sydney is a virtual reality escape room game. If you don't know what that is - they're safe, supervised locked room environments, in which you have to solve puzzles and take on challenges to be able to 'escape'. 
This means your team has to learn to work with each other, communicate effectively, engage with challenges, solve problems quickly and, in the end, share the victory. Can you think of  a more ideal team building activity?! 
Ours has an added layer of coolness - we take our audience on virtual reality adventures! The escape room environment is created with a headset. With its help, you can step into many different fictional worlds. From fighting aliens in space to fighting supernatural creatures in creepy old temples to fighting a super villain inside his own brain - you can do it all! 
So book your slots for our escape room games today. Take a look at all our exciting missions here. 
2. Hidden Door
Hidden Door offers custom activity sets for your team. Their packages take into account your corporate culture, your team profile, and your budget. There are half- day events right in your office, or retreats that could last a week. 
Some of the activities they offer are Amazing Race and Treasure Hunt style exercises. These make your team come together to solve puzzles, track clues and overcome challenges. 
It's a great way to facilitate better communication, encourage people to learn problem-solving and other skills, and instill more confidence in  them. 
They also have more unusual ones, like painting graffiti and street art, and even filmmaking. There are options for outdoor and indoor activities as well.
3. Corporate Challenge Events
This company offers more than 40 team building activities. These include physical and virtual workshops, competitive exercises, and even a little TLC for your hardworking team.  
The company works with you to build a specialized package, taking into account the size of your team, its location, budget, and duration of the activity. 
They have tie-ups with charities, cooking and other creative classes, and traditional team-building workshops.
Their USP is their insistence that all team bonding activities should above all be fun. When you're in a positive environment, your inhibitions begin to break down and you work, communicate and coordinate better together - that is their belief. 
They're also focused on providing value-for-money.
4. Kiss My Axe dot com
Have some frustrations to take out in the workplace? How about attending an Axe throwing workshop! This team-building exercise teaches you the basics of the art of axe-throwing. It even hold competitions to see which of your team adapts quickly and learns it the best to win!
There are different packages for groups of different sizes, various durations, and miltiple locations. 
5. PowerProv
Very few activities are as effective at breaking down boundaries as impriv workshops. Teams must learn to think on their fit and communicate on the spot. 
PowerProv helps your team learn this art of communication. Their workshops use behavioural science to deisgn programmes suited for your business. Instead of asking people to perfor, they do paired or  group exercises, so everyone can be at ease. 
The workshops also teach selling strategies - so this might be a great option for your sales team!
PowerProv's instructors can come to your office, your retreat or your day out, or run their workshops virtually. There are workshops of various durations and group sizes. And all of them can be tailored to suit your organisation's needs.
6. Beyond the Boardroom
Beyond the Boardroom organise events for up to 180 team members all across Australia.  Uniquely, many of their activities are based on TV shows!
These include the Amazing Race (which we love because you get to explore the city you're in), The Apprentice, Survivor and Minute to Win it, and even our beloved Masterchef. 
There are also escape room options, a mobile casino (!), a Game Show Trivia Night, and Corporate Olympics. But our favourites are the themed activities, such as the Murder Mystery Night. 
7. OzParty
OzParty specialises in virtual team bonding workshops. It believes in the principle of remote work being better for both workers and the organization. That's why it wants to solve the challenge of bringing people together as  a team while they work remotely - and making sure everyone feels like they belong.
The workshops are directed by instructors including creative professionals, performers, entertainers and artisans.  
They can be run on any remote platform your employees are comfortable with - such as Google Meet, MS Teams or Zoom.
The activities don't have to be limited, just because they're remote. Activities include adventure challenges, mazes, races, cooking classes and team building games. 
There are custom packages and we love the 'Step by Step Event Builder' option. If you do want an offline event, that can also be arranged.
8. Glenworth Valley
This beautiful resort is situated in scenic surroundings just an hour's drive from Sydney. The location alone will help your team really relax after a stressful work life.
It also conducts team challenges with instructors, in which teams overcome obstacles and find solutions together.
We particularly love the activities that are tailored to the area. These include Bushcraft Survival Skills - so you can survive the wilderness of the corporate world! - the Mud Run Obstacle course, quad biking, abseiling, kayaking down Popran Creek, or - best of all -  herding cattle together as a team from one end of Glenworth Valley to the other! 
You can actually live the dream of being a cowboy! How cool is that?
If you want something more relaxed, there is the Seafood Kayak Tour, in which you visit oyster farms and try out fresh seafood and wine; the Horse Riding Trail; the Gourmet Picnic Trail Ride (yum!); attend Aboriginal Cultural Ceremonies; or do some Sunrise Yoga. 
Just the sound of the programmes has us relaxing in our seats. We also love the glamping option.
9. The Collectors Game
This unusual activity is a multiplayer simulation game. It's   held online with the help of instructors. It can accommodate up to 500 participants! 
The workshops can be as short as one and a half hours, or as long as three. Better yet, the game itself can be customised for your needs. 
Your team is divided into small groups to facilitate more in-depth discussions about the simulated situations and problems, and how they can be solved. 
The immersive experience is excellent for developing problem-solving and creative thinking skills, as well as enabling collaboration and communication.
10. Team Building Sydney
Team Building Sydney offers indoor and outdoor activities, charity programs and wellness programs.  They focus on learning through experience and there are dedicated instructors to help with it all. 
The programmes are designed to be both fun and engaging, and can be tailored for different group sizes. They can also be brought to you, or to a venue you desire. 
Some of our favourites are the Raw Canvas Painting Team Building Activity, Level Up Indoor Team Building Activity, Bridging the Gap team building, the Vault team building program, and Car Rally team building activity.
The organization also has facilitators at hand to help you choose the right activity for your team. 
11. Team Bonding
Team Bonding has worked with more than 500 clients in Australia. It offers many options that promote togetherness and trust, including indoor and outdoor options.
We love the fact that they have a Lego Legends competition, and a Virtual Drag Show! As long as they have the date of the event and the size of the group, they will turn up. 
The company has great reviews for smooth event organisation and great fun. They also provide you with pictures from your event, as part of your chosen package.
12. Great Race
Established in 2008, Great Race runs more than 500 events a year across various sectors.
Contrary to what their name may sound like, they don;t just hold races (!). Survivor, Game Show, Taste it to Win It, Film Festivals and Murder Mysteriesare all on their roster. And they have trained hosts to help your event come alive with lots of fun and excitement. 
13. Game Shows Australia 
This team-building company focuses exclusively on holding The Game Show - a live show in which contestants must overcome challenges and answer trivia questions. 
There are buzzers, sound cues, player podiums, digital scoreboards, music and lights, just as there would be on a real TV show game show. 
The shows can be tailored to what you need - including the questions. You can make them really specific to your team, or keep them to generic subjects such as current events. 
The best part is that it's a completely portable event, so the show can come to you. 
So what're you waiting for? Choose your favourite option and give your team a well-deserved bonding day now. And don't forget to visit our site at Entermission Sydney to book your slots for our escape room adventures!