Have You Tried These 11 Team Building Activities In Sydney?
Does your team seem unmotivated lately? Low spirits? Need some cheering up? Why not take them out on a team building activity? 
Sydney has nearly endless options for fabulous exercises that bring your employees together in harmonious co-operation.  They can overcome challenges together, foster better communication, forge strong relationships, and make some great memories along the way. 
Here are 11 such activities to get your team out of the office, so they can learn to collaborate, problem-solve and communicate better in the workplace.
1. Taking on a Virtual Escape Room Challenge
Entermisision Sydney is a virtual reality escape room game. If you don't know what that is - they're safe, supervised locked room environments, in which you have to solve puzzles and take on challenges to be able to 'escape'. 
This means your team has to learn to work with each other, communicate effectively, engage with challenges, solve problems quickly and, in the end, share the victory. Can you think of  a more ideal team building activity?! 
Ours has an added layer of coolness - we take our audience on virtual reality adventures! The escape room environment is created with a headset. With its help, you can step into many different fictional worlds. From fighting aliens in space to fighting supernatural creatures in creepy old temples to fighting a super villain inside his own brain - you can do it all! 
So book your slots for our escape room games today. Take a look at all our exciting missions here.
2. Touring a Brewery or winery
We can't think of a better way to relax after work than to head out for a few drinks with your team - so why not make a day of it? Sydney is filled with first-rate breweries, wineries and distilleries, so options include a wine, beer, spirits or cocktail tour. You can arrange to meet the craft beer brewers and wine producers  to learn the secrets of beer making on a behind-the-scenes tour.  Some possible locations could be the Hunter Valley, Southern Highlands and the South Coast. You can even have a picnic with gourmet cheese platters, chocolates, olives, and of course the excellent booze.
3.
Attending a de-stressing Camps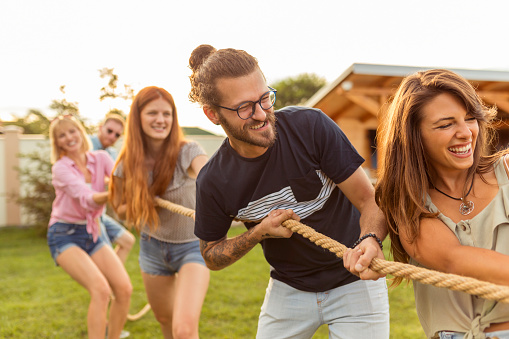 Work can be stressful - so why not take your team to a de-stressing camp? An example is Kiss My Axe, which teaches axe-throwing! What better way to let go of your frustrations than to learn how to aim at a target board and then thwack an axe straight into its heart. You could also try Break Room Sydney by, of course, the Smash brothers. Here you get a helmet and goggles to smash stuff up in a safe and secure environment. Your weapons are baseball bats and your targets are all sorts of things, from tea cups to TVs. Have at it!
4. Indoor or Outdoor Climbing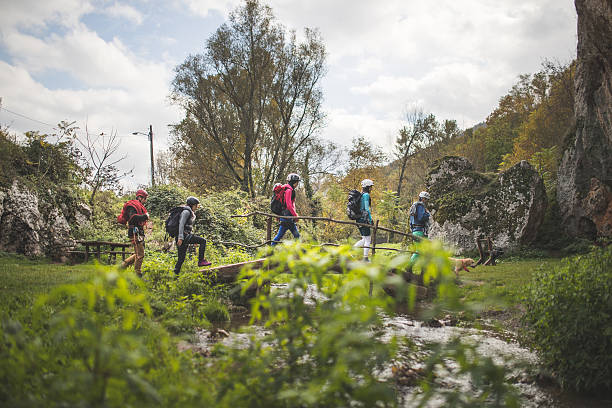 Want to climb to new heights with your team? (Heh, heh, heh. See what we did there.) Why not try climbing? It's a great way to get out of the office and get moving, and encourage people to get out of their comfort zone. Most places in Sydney have guides and coaches to help people of any level of fitness and ability. If the weather allows, you can even try the Sydney Harbour Bridge Climb - we think the view from the top will be worth it!
5. Exploring the Blue Mountains 
Take a break from your screens and take a hike in the beautiful Blue Mountains! It's an especially good choice if your team has lots of people who love the outdoors. Hiking, bush walking, mountain biking, canyoning, or just picnicking in the great outdoors are all options. You can also book a Scenic World cable car ride, or stroll the Blue Mountains Botanic Garden instead. 
6. Kayaking in Rose Bay 
Is your team made up of people  who are comfortable out on the sea? Then we'd thoroughly recommend kayaking or paddle boarding out in Rose Bay as a team building activity. Even if your team doesn;t have all the gear, it's easy to just rent some kayals from companies near Rose Bay. There are lots of hidden beaches and islands here. You can even take your team right out to Shark Island, which you can explore for a small fee.  
7. Surfing in Wollongong
Another one for the water lovers. A surf class would be the ideal way to introduce team members who don't surf to the sport - while bonding with the ones who do! Many places offer two to three hour lessons in calm, safe waters. Learning a new skill is a great way to boost team confidence and morale. 
8. Play Supball in Manly 
Have you heard of Supball? It's a combination of netball, water polo, lacrosse, and rugby – played on stand-up paddle boards! Yes, we know it sounds intense - but it allows groups of people to play in teams and encourages learning, communication and coordination, all of which are excellent for team building. Give it a shot!
9. Cycling in the City
And if you want something outdoors and fun but not as competitive, why not try a city cycling tour? There are many companies which offer guided tours on rented bicycles. You could even do a race! The routes can be adapted to teams of different sizes, ages and abilities - and you could all learn many new things about the city that you would never have known before.
10. Cruise on a Yacht at Sydney Harbour
From activity to leisure! It's been a stressful time, and your ace team deserves the best to help them unwind. So why not go all out and take them on a luxury tour of the Sydney Harbour? Many companies rent out yachts with the best amenities. Just put on your best beachy outfit, grab a drink and relax while being taken around one of the most beautiful harbours in the world! What a great way to encourage team bonding.
FURTHER RECOMMENDED READING: 19 VIRTUAL ESCAPE ROOMS IN AUSTRALIA by TEAMBUILDING.COM
11. Give Back to Society
And we're rounding off this list with an activity that benefits everyone in your community - even beyond your team. Volunteering with charities and non-profits for the less fortunate is certain to bring your team closer together. The activity will result in them sharing the feeling of accomplishment and well-being after helping others. 
Team-building activities are very important to boost workplace morale - but we often get stuck in a mould when we consider what all could actually be done on those days. 
We hope this list helps to break this mould and show the great variety of events that can help your team learn to communicate better, cooperate with each other and find their sense of purpose again. 
Let us know what worked for you - and don;t forget to book your slots for Entermission Sydney!