Top 10 Places to Celebrate Your Partner's Birthday in Melbourne
The thing about birthdays is no matter how great your planning skills, you have to keep upping the bar every year. That means it's possible to run out of ideas quickly - especially when you have someone as important as your partner to impress! 
Well, never fear - we're here. We've curated a list of 10 great experiences for your partner's birthday. It covers a range of options over a range of budgets and, of course, a whole spectrum of fun activities. So here are the top 10 places to celebrate your partner's birthday in Melbourne!
1. Entermission Melbourne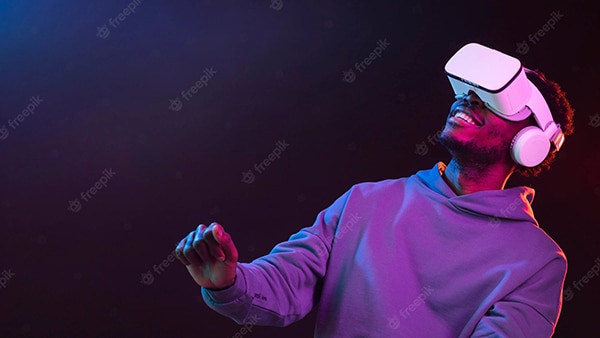 Does your partner love a thrill? We have just the answer - a virtual reality escape room, like Entermission Melbourne!
Here at our escape room venue, we help you and your loved ones to take part in various tasks and challenges. The goal is to figure your way out of a safe, supervised, and virtual escape room within a set time limit. You can take part by either coming into our premises, or from the comfort of your own home. That's because we also have fully online hosted escape room experiences. That's all the fun of a physical escape room - with all the safety of an online, covid-free environment.
It's a safe, convenient and accessible option for a birthday party - especially if you have friends and family in lots of parts of the world. And it's very affordable! With the help of VR technology, you and your partner can have a destination birthday - without even stepping out of the comfort of your own city. 
You and your partner can go through the looking glass in Alice, trek in a tropical rainforest in Jungle Quest, or do battle with a very clever supervillain in Mad Mind. For lovers of horror, there's Sanctum; and for sci-fi lovers, there's Space Heroes. And if you guys love a good war game, we have Mission Sigma. And of course, you can choose the room you want to play in based on your party theme. Every room has a guide to help you and your party guests if you get stuck. You have one hour to figure them out and unlock your way out of the 'room'!  
Take a look at all our exciting missions here. 
We also have a special birthday party package that includes games, snacks, and of course, cake! There are different packages depending on how many people are there in your group. You can take a look at our birthday packages here.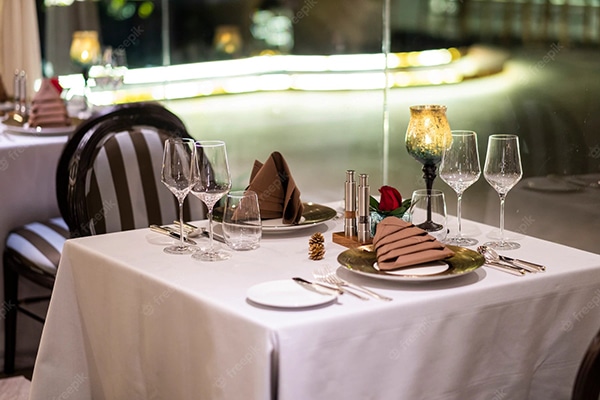 How about going back to basics with a romantic birthday date night? You could go the formal dining way and head to a beautiful restaurant like the Vue de Monde, which, at its current position on the 55th floor of Melbourne's iconic Rialto building, has panoramic views of Melbourne's skyline. Or you could head to a place like the Trinket Bar on Flinders Lane's for pizza and cocktails. How about a completely unique dining experience at Dans le Noir in Carlton, in which you get to wine and dine in complete darkness? (Yes, you read that right!) No better way to focus on your beau - if your beau loves new adventures, that is. Some of the proceeds go to charity to help visually impaired people, so you and your partner could be helping a good cause while having a great time. 
Or - and this is our favourite - you could also go all-out and try a dinner cruise on the Yarra River! The trip takes place on the boat called "Spirit of Melbourne" boat and involves a FOUR-course menu, cheese platter, beverages, AND drinks. What better way to celebrate a partner's birthday?!
3. Go for a spin on the Melbourne Star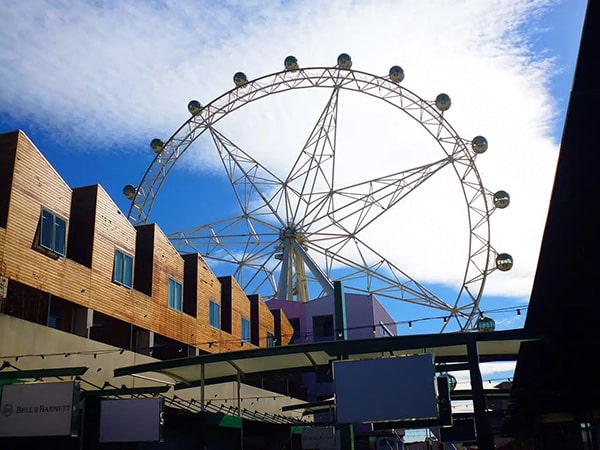 Help your partner find their inner child again! Head to the Melbourne Star, the giant ferris wheel that provides beautiful views of both the sky above and Melbourne's cityscape. Situated at the Docklands, it has cabins with individual heating and air conditioning - and it even has packages for drinks! With the Sparkling Flight you could toast your beau on their birthday under the stars.
4. Relax with a romantic picnic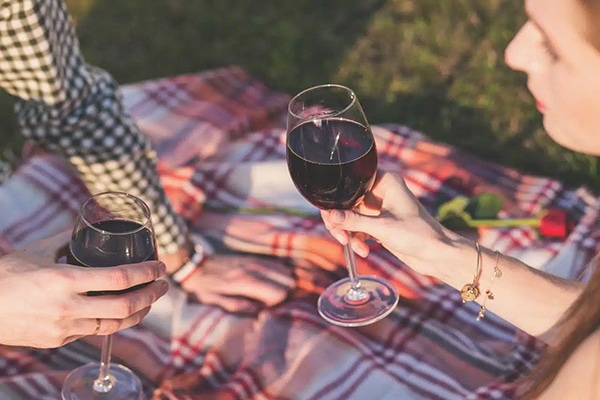 For this one we'd recommend you head to the Royal Botanical Garden - easiloy one of the most scenic spots in Melbourne. If you want to give your partner the full picnic experience, why not cook up a storm and take a hamper along with you? (Don't forget the blanket!) You could take your partner punting on the lake with a guide, who will be dressed in full traditional regalia and regale you with facts about the garden's history and flora collection. And why not end the day with a cup of coffee at one of the little cafeterias dotted all around the area? A perfect end to a day of celebration!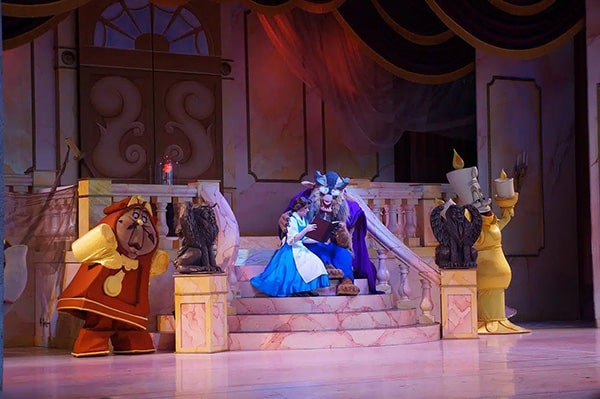 Melbourne has a thriving culture scene and you have a host of options to celebrate your partner's birthday in the company of their favorite characters. You could try a classic musical, like Moulin Rouge! The Musical, Wicked or Joseph and the Amazing Technicolor Dreamcoat,  or head to a modern one like Hamilton. Or, if your beau is a Potterhead, how about Harry Potter and the Cursed Child? 
Or, why not opt for a completely different kind of show and head to the Melbourne Planetarium for a show about the cosmos? The institute holds a fascinating display about planets, stars and constellations projected onto its 16-meter dome. Some of their programmes are out of this world – they once did a show to Pink Floyd's 'Dark side of the Moon!' They hold events - so you could potentially ask them for some help to make your partner's birthday extra special.
6.Go to An Outdoor Cinema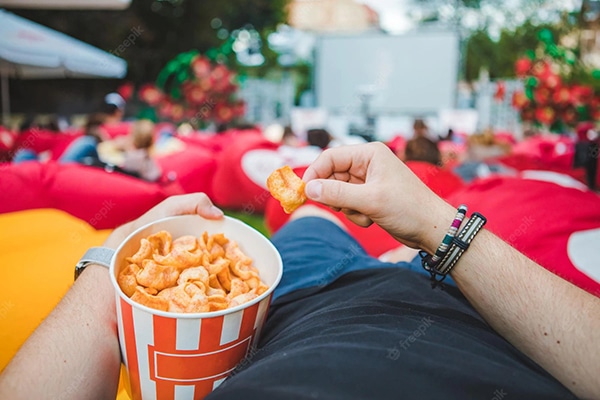 This is one of the loveliest and most romantic ideas we've had, if we do say so ourselves! On their birthday, take your partner to an outdoor cinema. You could try the Moonlight Cinema in the Melbourne Botanical Gardens, Rooftop Cinema in the CBD, or Barefoot Cinema on the Rippon Lea Estate. Big screens, food and bean bags are available for rent - along with lovely views.
7. Stroll in an Art Gallery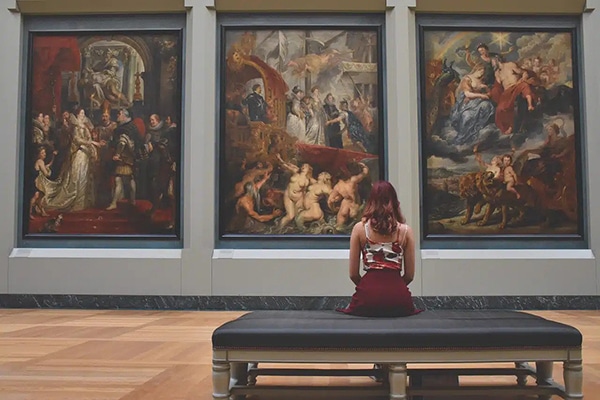 Speaking of culture - why not take your artsy beau to some of Melbourne's impressive art galleries? We'd highly recommend The National Gallery of Victoria's 'Friday Nights' event. By purchasing special tickets, you and your partner will be granted exclusive access, after hours, to the ongoing exhibit of the time. You could even have a chat, a drink and a bite to eat with some of the artists in the museum hall. 
The Arts Centre in Melbourne has local and international performances and exhibitions, and Federation Square is chock-full of art galleries and installations. We love the idea of walking hand in hand with your partner through art installations on a quiet night!
8. Head into the wild outdoors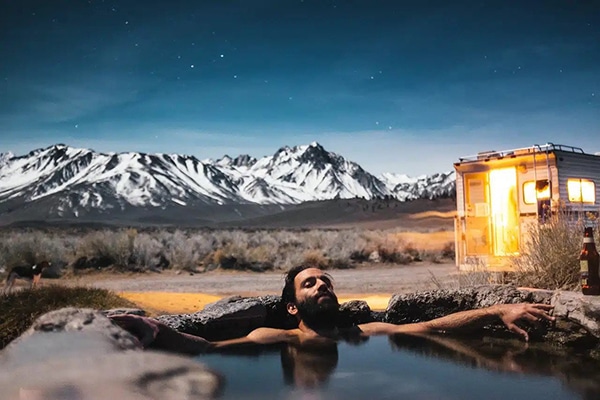 Take a break from hectic everyday life, and head to the wilderness! You have your pick of places to go to in Melbourne, just a few hours away - from the seaside Mornington Peninsula to the mountainous Dandenong range. Both places specialise in producing their own wine, and a bounty of harvest. You could take a dip in the Mornington hot springs for the ultimate day of relaxation, or rent a cabin after traveling through the forests of the Dandenongs. There are hiking trails and gourmet food and wine tours. Or, if you are the especially outdoorsy type, why not head for a long bike ride along the Yarra Trail? 
9. Fly on a hot air balloon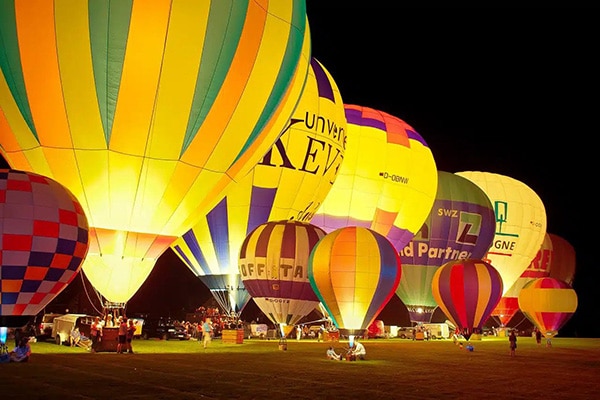 We can't imagine a more beautiful birthday than one celebrated hundreds of feet in the air, with the sun coming up over the edge of the world! You can gift your partner this experience - take them on a hot air balloon flight above the Yarra Valley. There are lots of travel companies that specialise in this experience and we'd highly recommend it for a romantic birthday date.
10. Jump off a plane - holding each other's hands!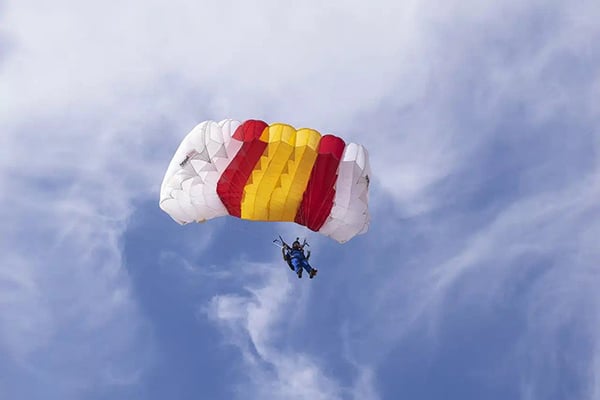 This one is for your partner only if they're a real adrenaline junkie! Melbourne has one of only 2 sky diving spots in the world which is close to a city - at St Kilda, with incredible views of the beaches. You're driven to the airport where you board the plane from which you go flying. Or you could head to dives at the Great Ocean Road or the Yarra Valley. What a way to celebrate a birthday!
And those are our ideas for you to celebrate your partner's birthday! Why not tell us which one you opted for? Of course, we hope to see you at Entermission Melbourne soon as well - book your birthday package here.