WHAT ARE VR ESCAPE ROOMS?
Mind Blowingly Unique Adventures
Entermission adventures combine elements of escape rooms with the immersion and excitement of virtual reality for mind-blowingly different experiences, unlike anything you have ever done. The thrills appeal to newcomers or veterans of VR or escape rooms.
The only Melbourne virtual reality using hand tracking rather than controllers and with special effects...this is multisensory VR with wind and heat on your face. The smell of gunpowder and smoke lingering in the air making the action FEEL REAL!
Melbourne's Most Immersive And Best VR Escape Game Adventures


Gather teams of 2-6 players (max. 18 across 3 rooms)


Choose your preferred game


Search for clues, solve puzzles


Work towards the "AHA" moment You have 60 mins to escape (allow 1 hr 15 mins for entire experience)

Have FUN being immersed in amazing VR worlds together
Responsible for Organising a Big Event?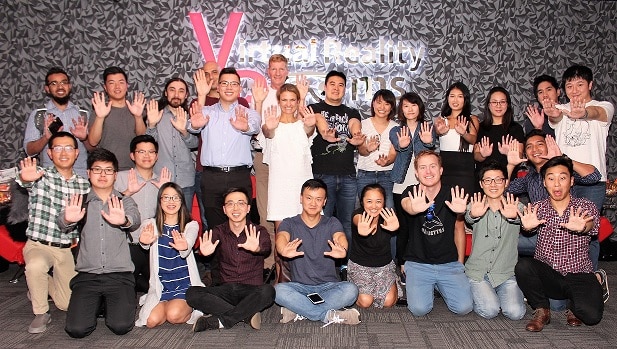 Are you responsible for your next corporate, team building or family event? Or do you need to organise a large birthday party? Entermission Melbourne is a great team building activity for businesses that want to add an unusual twist to their corporate outing or families and friends that want to host memorable special events. We can cater for all types of groups with convenient access in Melbourne's CBD and capacity of 36 people across 2.5 hours.
The Best VR Escape Rooms in Melbourne
Slots fill up FAST - advanced booking
strongly recommended. Hours may vary with bookings.
All Days:  10:00 AM - 10:00 PM
Tickets are $49 pp
A Play At Home Escape Room Game
WHAT MAKES ENTERMISSION UNIQUE?
All Senses Engaged - Explore places you could never go to in real life and be completely immersed and amazed how realistic it feels, which a physical escape room can't replicate. Feel the wind and heat on your face during key moments and a scent generator fills the air with smells like gunpowder and smoke to increase the immersion.
Social Shared Experience - With Entermission, 6 people play together in VR in the same room. Reach out to high-five your friends in VR and actually touch their hands. Hear the gasps, shrieks, and screams of your squad!
Epic Interactive Adventures - Unlike traditional escape rooms, you aren't just solving puzzles. You also experience flying, using telekinesis, fighting demons, giant spiders and hostile robots, shooting lasers and all sorts of crazy things with your friends.
Take a look at what others have to say about our Melbourne VR escape rooms. 
Frequently Asked Questions
When you arrive at Entermission Melbourne VR Escape Rooms, this is what you can expect:
BRIEFING: Firstly, you'll be briefed on how to move around and use your special powers in the virtual reality world.
BE AMAZED IN THE VIRTUAL REALITY WORLD: Once inside the room, you'll put on your virtual reality headsets where you'll be transported into another world based on the adventure you have chosen. You'll have a 360 degree view of the virtual reality world but still see and interact with your team in their virtual reality avatars.
TEAMWORK, THINKING AND FUN TO COMPLETE YOUR ADVENTURE: As a team, you'll need to work together to complete your adventure which could require battling enemies by shooting lasers from your hand, flying through space, finding secret passwords, piecing together puzzles or uncovering the deepest, darkest secrets of a maniac's mind. Be delighted by your new world, puzzled by what to do during your adventure and exhilarated as you defeat enemies and solve puzzles together to complete your adventure before time runs out. Communicate with your team mates and friendly Adventure Masters through your headsets and seek guidance if required from your Adventure Master.
COMPLIMENTARY REFRESHMENTS AND PHOTOS: After your adventure, enjoy complimentary tea, coffee, hot chocolate and biscuits while you talk about the highlights of your amazing experience. When you're ready, our friendly Adventure Masters can help take group photos for you at our interactive 3D photo walls.
You can book over the phone, however booking online is very simple and the quickest way to book and lock in your desired date and time as we may be unable to answer your call immediately during busy periods. Please note if you are booking less than two hours before the start time, you will need to book by phone on (03) 8060 0683
We have capacity for 36 people when combined with our VR arcade experience across two sessions or 18 people per session playing our virtual reality escape room adventures. Each adventure is designed for 2-6 players. You'll have exclusive use of a room and you'll be in your own adventure where you can see, hear and interact with each other. We have 3 rooms so you can book multiple rooms to compete head-to-head.
Cancellation Policy
No refund will be provided in case of booking cancellation or no-show.
Terms and Conditions
1. EXCLUSIVITY
The game is designed for a team of 2-6 people per room and you'll have exclusive use of the room.
2. BOOKINGS, REFUNDS AND CANCELLATIONS
Entermission Melbourne is a live event so once the booking is confirmed refunds and cancellations are not accepted.
If less people attend the Game than are booked, the price difference will not be reimbursed.
 If more people are attending please call us on (03) 8060 0683 to check availability and add the additional person.
There is a $20 rescheduling fee if you change the date and time of your booking. Reschedules can be made up to 48 hours before the Game.
Only person(s) who are at least 18 years of age are permitted to book a Game.
It is your responsibility to check that any Games issued to you are accurate and your details are correct on the Online Booking Form. By submitting an Online Booking Form you warrant to Entermission Melbourne that all details supplied by you are true and accurate.
You receive the confirmation of your booking via email only. Entermission Melbourne will not send further confirmation via post or text message.
A booking becomes a no-show and entry will be declined if the team is late. You will not be entitled to a refund or change your booking date and time.
3. SAFETY & ENJOYMENT
While you are on our premises, you must follow our rules and regulations, adopt proper standards of behaviour, and cooperate with our employees at all times.
We reserve the right to refuse entry to any person under the influence of alcohol, non-prescribed drugs or who is deemed unfit, abusive or unsuitable in any way at the sole discretion of the staff of Entermission Melbourne.
4. PRIVACY
Entermission Melbourne collects and stores your personal details without disclosing it to any 3rd party and is dedicated to ensuring that the privacy of your personal information is protected.
If you would rather have us answer your question personally, don't hesitate to call us at (03) 8060 0683 or drop your inquiry via the Contact Form below.
Opposite Russell Street Tram Stop 7 (intersection with Bourke Street).
8 minutes walk from Parliament Station, 11 minutes walk from Flinders Street Station.
Fill out the form below if you have any queries, and we wil get back to you in 24 hours. Call us for urgent enquiries.