IT'S THE BEST VIRTUAL ESCAPE ROOM


PLAY WITH FRIENDS, FAMILY OR COLLEAGUES

FROM THE COMFORT OF YOUR HOME OR OFFICE
Unbelievable escape room fun, interacting with each other from the comfort of your home or office, anywhere in the world.
Traditional Escape Rooms - your group is locked in a room, with the mission to find and solve clues, escaping before time is up... it's challenging, fun and now available virtually!
Within our BRAND NEW online escape rooms, you'll see a 360-degree view of real-life rooms with the ability to interact with items in the room and the added benefit of all team members being able to explore the room independently or together. This is fully hosted with real time assistance from live Adventure Masters.
The best thing about an Entermission online escape room is that each team member can input the solutions to the puzzles themselves (rather than having to wait for the Adventure Master or rely on the lead team member) and see things being unlocked or opened as you solve the puzzles.
Our guests have said this is as exciting as playing a real-life escape room in person!!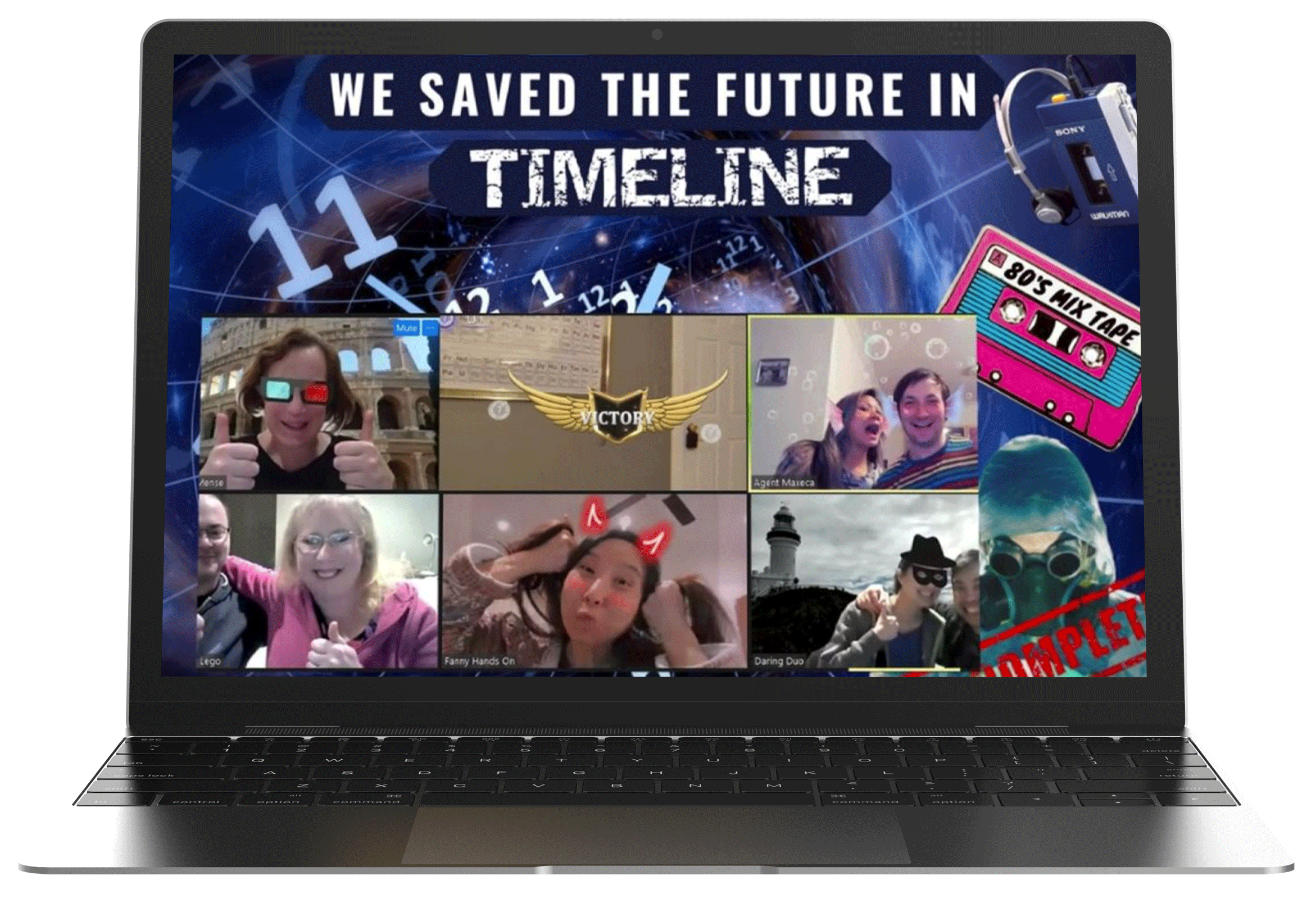 BIRTHDAYS, SPECIAL EVENTS OR JUST A VIRTUAL CATCH-UP
It's been tough.. missed birthdays, cancelled holidays, stuck at home or not being able to visit your interstate or international family and friends, so let's change that and celebrate special occasions (even those belated) or bring together everyone and get your challenge on!
Get that brain working, problem-solving skills rocking by booking in your very own hosted online escape room. Each adventure can have teams of 2-6 people who will be connected with each other and to the host Adventure Master via Zoom video. Large groups can have multiple teams competing for the best times - we can host over 100 people!
You'll be briefed on your mission and navigation prior to being given a password to enter your escape room online. The team will interact with each other, using teamwork, investigative skills and awesomeness to solve the puzzles and challenges. Your Adventure Master will be on hand to assist where required.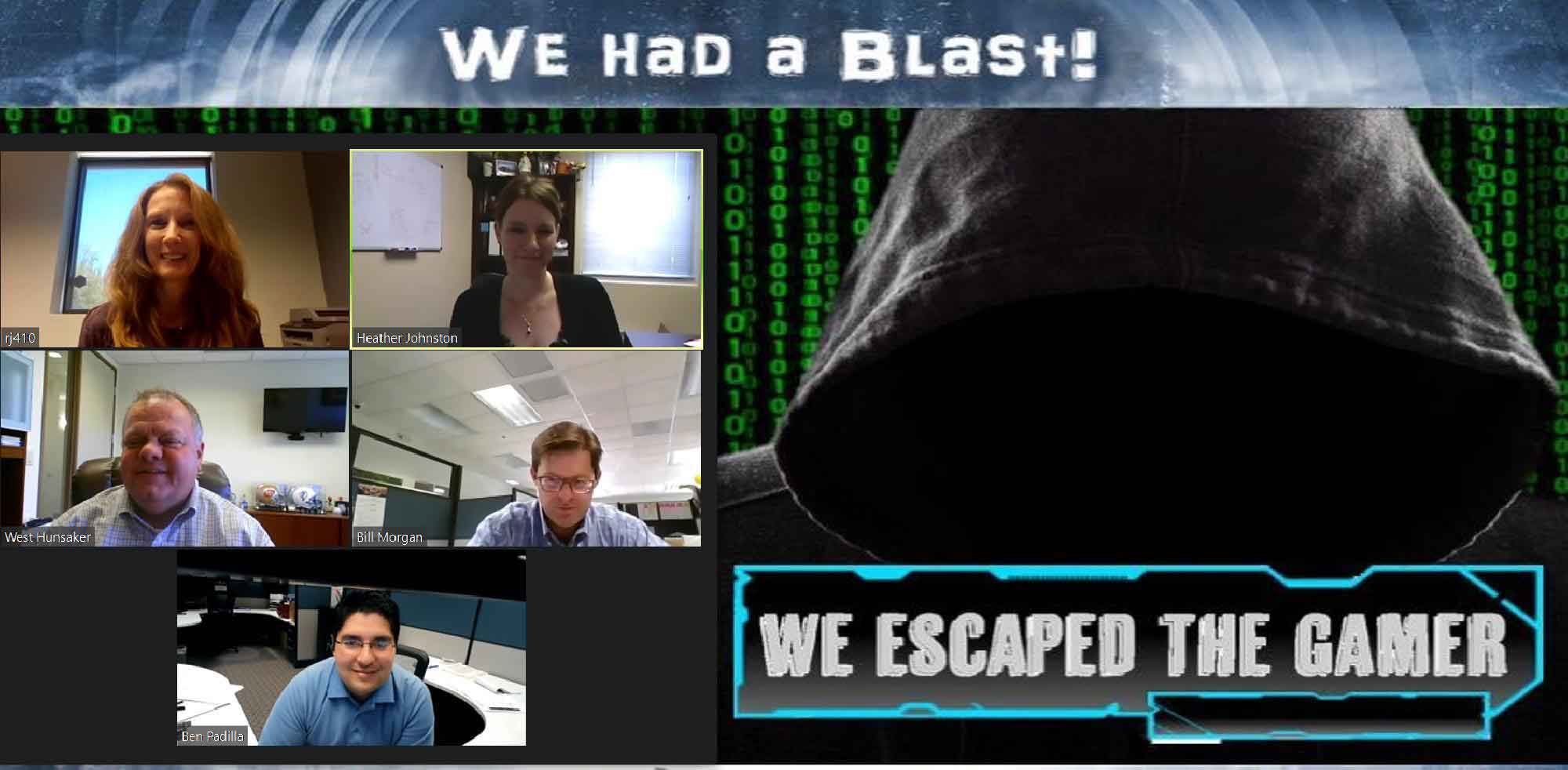 Plan The Perfect Virtual Team Building Experience
Our Virtual Reality Escape Rooms and physical escape rooms are one of the most popular team-building events in Melbourne, for it's unique and amazing experience it provides groups, so during these unique times, we have introduced our BRAND NEW Hosted Online Escape Rooms - which is the perfect virtual team-building activity!
Instead of those standard Friday arvo zoom drinks, bring your colleagues together for the ultimate, team-building, brain-working challenge... and hey those drinks can still be flowing.. it might actually help you solve those challenges quicker!
$35 pp with each room 2-6 people
We can accommodate over 100 people
Go head-to-head with multiple teams
Get a custom quote for groups over 20 people
HOW DOES A HOSTED ONLINE ESCAPE ROOM WORK?


You Adventure Master host will send a Zoom invite for the team prior to the adventure.


You'll be briefed on your mission and navigation prior to being given a password to enter the online escape room.


The team will interact with each other, using teamwork, investigative skills and awesomeness to solve the puzzles and challenges.


Your Adventure Master will be on hand to assist where required.

Have FUN escaping your online virtual escape room together
PICK ONE OF OUR

GREAT ONLINE GAMES!
Save The Future or Outwit An Assassin? The choice is yours..
TIMELINE -
SAVE THE FUTURE
This is our most popular Hosted Online Escape Room and will bring back the nostalgia of the 80's as you sing along to top hits and puzzle with retro items.
In the not-too-distant future, the world is in chaos. Your father, has developed a time machine to go back in time and fix what went wrong but he has gone missing.
It's now up to you and your friends to activate the time machine and go back to the 80's to finish what your father started. Do you have what it takes to go back to the past and save the future? Good luck time traveling dudes!
CIA TASKFORCE -
OUTWIT THE ASSASSIN
You wake up in a strange room. You look around and see the other members of your CIA investigative team who were recently assigned a mission to track down the infamous assassin named, "The Gamer."
He's known for toying with and disposing of those who attempt to catch him and has never failed to carry out his assignments. The Gamer is widely considered the most dangerous assassin alive as he considers his opponents pawns that can be sacrificed in his game.
The last thing you remember is going to sleep the night before. When you awoke, you're stuck in a room with your team and a timer is counting down. What does that mean? Can you figure out where you are, why you're there and a way out before the clock hits zero? Will your team be the next pawn sacrificed?
Reviews
See what some of our customers are saying...
⭐⭐⭐⭐⭐
"Really well done virtual escape room, it felt like you were actually there and it was really fun to play with friends! The controls and instructions all made sense and worked really well! Very fun highly recommend! "
- Isabele
⭐⭐⭐⭐⭐
"My group did the CIA Task Force (Hosted Online Escape Room), the concept is new, in which the team at Entermission are bringing escape rooms to an online format and you can all participate remotely. We had a great dedicated GM (Annie and the team were super friendly and patience with us through our initial technical issues / setup). The team has done well to enhance the online experience by adding options for customisation to your webcam background, agent name and augmented reality profiles."
- K L
⭐⭐⭐⭐⭐
"Played Timeline - Fun virtual escape room. Just make sure that your host sharing the screen is used to playing First Person Shooters so that they can be quick to move around the 360 view and interact with screen based on the party's instructions."
FREQUENTLY ASKED QUESTIONS
Be sure to use our contact form below with any answers to questions not listed here.
Click on the image to download the invitation template that can be edited using the Powerpoint program in Microsoft Office.
Personalise the invite in the areas provided.
Select "Save As" and in the drop down box for "Save as type" select "JPEG" to save the personalised invite in picture format.
Send these as E-invites over Whatsapp, Facebook or Email. Or even print these and send as physical invitation cards.
CONTACT US OR
NEED A CUSTOM QUOTE?