Hosted Online Escape Room VS Virtual Escape Room
Entermission Melbourne recently released their brand new Hosted Online Escape Rooms for you to get your escape room fun from the comforts of your home. Only $35 per person, you can bring all your friends and family together, get all your brains working and teamwork going to solve puzzles and challenges, complete your mission and escape in 60 minutes.
If you've tried other virtual escape rooms but didn't have your mind-blown, you have come to the right place! Let me show you what makes us unique and we promise a good time when you escape with us.
Live Adventure Master
In some virtual escape rooms, you may have an adventure master narrating your mission, giving you prompts for the game or acting as the avatar of your game as you try to escape. Our adventure masters are all of that, but more! Our adventure masters will be with you every step of the way with real time assistance, joining you in the zoom call to provide you with any assistance you require. This includes explanations of instructions, hints and tips, troubleshooting, or even as your personal photographer and videographer as you play the game. They are all smiles and ready to aid you for your escape.
Independent Playing
Unlike other virtual games, you won't have to share the same screen and play collectively in the same 'room'. Our online escape room gives everyone an opportunity to search and investigate the room independently on your own screens. You get to interact with items in the room and input the solutions to the puzzles yourself. Everyone gets a code to individually log into the room and escape using your own problem solving skills.
For an insight of what to expect, please click here.
Zoom Video
Independent playing doesn't mean you can't play together with your friends and family. Your Adventure Master host will send a Zoom invite for the team prior to the adventure. From there, you can see and interact with each other through Zoom video. A team leader will be nominated by your team to share their screen and navigate the room together live. Your team will interact with each other, using teamwork, brains and awesomeness to solve all the challenging puzzles together and escape within 60 minutes.
Realistic Animations and Interactions
We provide you with top-tier immersive experience in our online escape rooms. By escaping with us, you get to explore 360° views of real-life rooms and interact with items in the room as you would in real life. We added an extra sense of thrill for you as you get to see the actual locks open as you solve the mystery, and zoom into objects to observe what happens when you complete the puzzles.
If all this has got you intrigued and excited, what are you waiting for? Come join us on our mission and escape!
We have 2 great online games for you to choose from: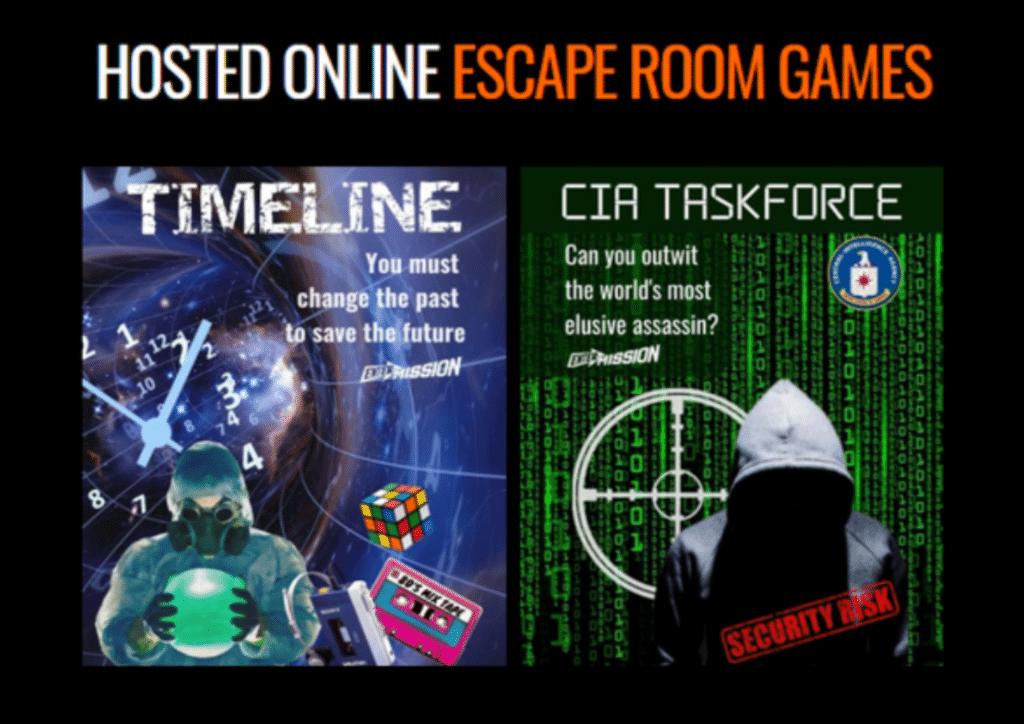 See trailers for our games on our website at: enterthemission.com/melbourne/online-escape-rooms
It is a great idea for your next virtual event, and it's great to put on your own socials as well!
All you need is a computer and/or a smart device, log into Zoom and you're all set to embark in your next adventure!!