MAKE MORE MONEY PER SQUARE FOOT
With the addition of Virtual Reality to your escape room business.
Want to own an Entermission VR escape room business? Owning a Entermission franchise provides an attractive, profitable business and enables you to be a pioneer in your area, delivering leading edge entertainment experiences. We are looking for partners in key locations across Australia and globally.
If you are a location operator with existing escape room business (in the United States and elsewhere), you can add high throughput, high ROI Entermission to your existing location by purchasing hardware including the Entermission Mission Module chairs and licensing the amazing Entermission games.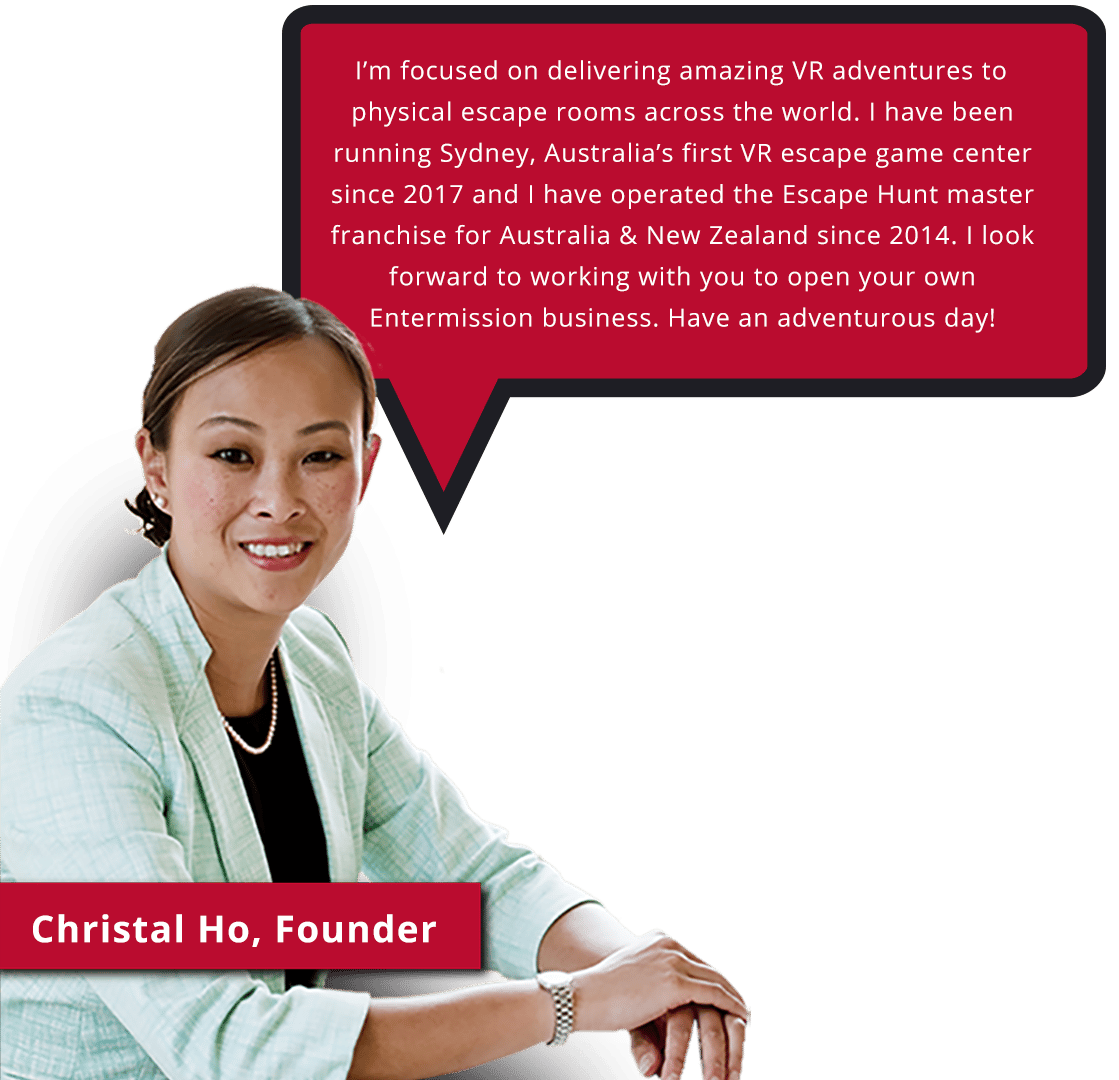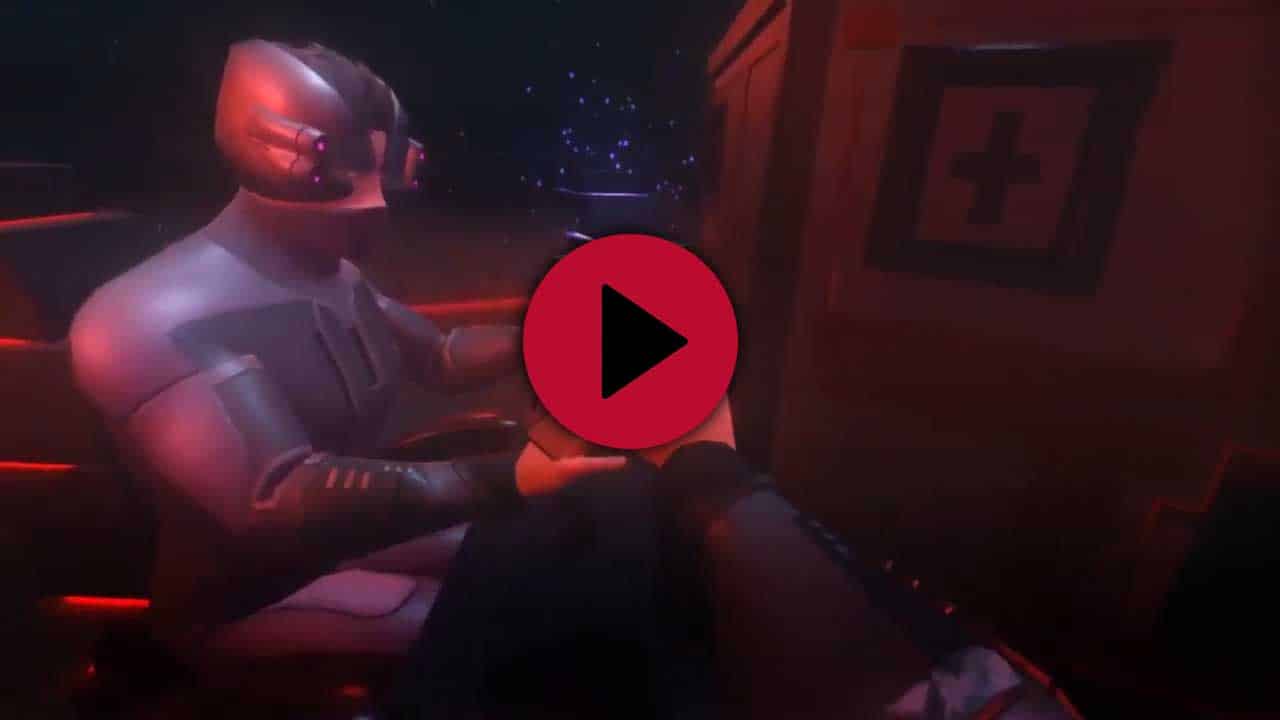 Click image to learn more about Entermission
While other VR escape rooms require 400 square feet for 4 players, Entermission rooms fit 6 players in only 170 square feet. With 50% higher capacity in less than half the physical space, Entermission is the most profitable VR attraction available today for escape room, VR and family entertainment centre business owners.
We have found that the majority of customers prefer the seated experience as it is more comfortable for customers (less tiring than standing up / walking around for 1 hour), can be played by a broader range of people with less risk (kids, pregnant women, older people) and with escape rooms it's generally about the puzzles and interaction rather than moving around (unlike a shooting / action game).
If space is not an issue and you prefer a stand up / free roam format, you can still license our 5 star games which have also been successfully played by customers in stand up / free roam format.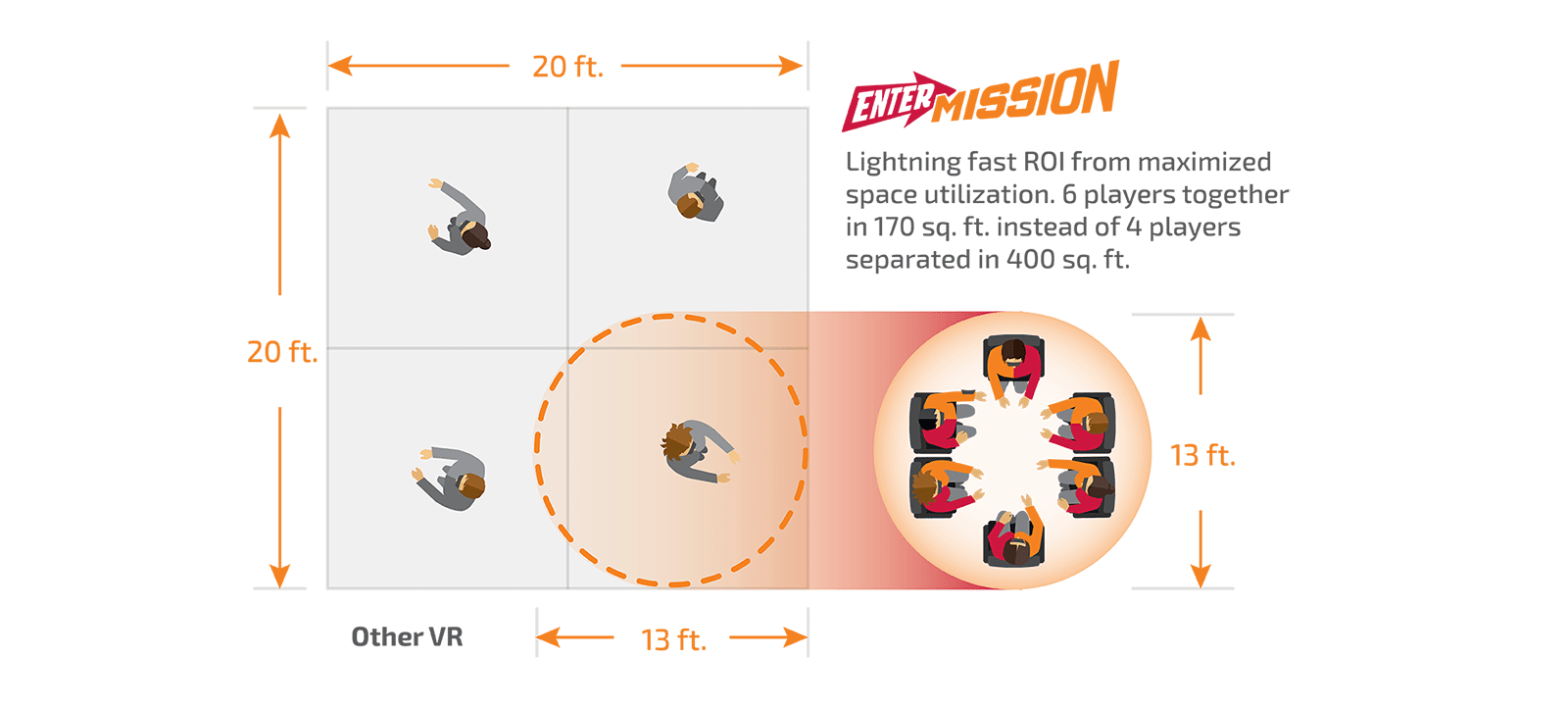 HIGH THROUGHPUT
3x more than other VR Systems

COMPACT
6 players in only 170 sq. ft.

EFFICIENT
No reset or breakage, Less Labor

SPECIAL EFFECTS
Wind, Heat, Scents and Vibrations
The key components of Entermission's consumer experience include the unique Mission Modules, high-end gaming chairs, and incredible enviornmental effects designed to dramatically enhance player immersion.

Seat Vibration Haptics
Integrated into the seats for vibrations and intense realism you can feel.

Hand Tracking
Best-in-class hand tracking allows players to use their bare hands in VR for immersive puzzle solving and boss fights.

Scent Generator
Gunpowder, smoke, fire and more..your guests will swear it's real.

VR Gaming PCs
High end CPUs and nVidia RTX card future-proofs your investment.

Latest Vive Headsets
Your players experience room-scale precision tracking. Vibrant screen colors. Incredibly high contrast and realistic sounds.

Wind and Heat Generator
For memorable and increadible moments.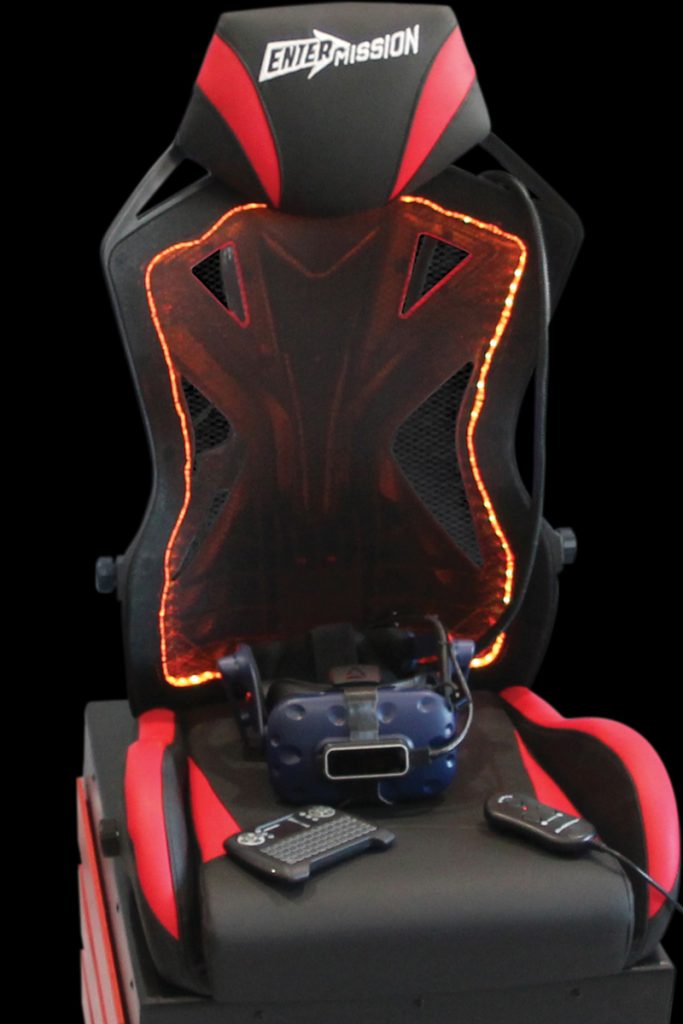 Entermission provides social VR adventures designed to appeal to a wide audience, from kids (8+) to grown-up gamers. There are immersive exciting games with challenging, collaborative puzzles and amazing action for all types of groups. It's perfect for fun with friends and family or unique team building with squads of coworkers. This is proven, crowd pleasing content that will attract the largest number and range of guests so you can maximize your revenue.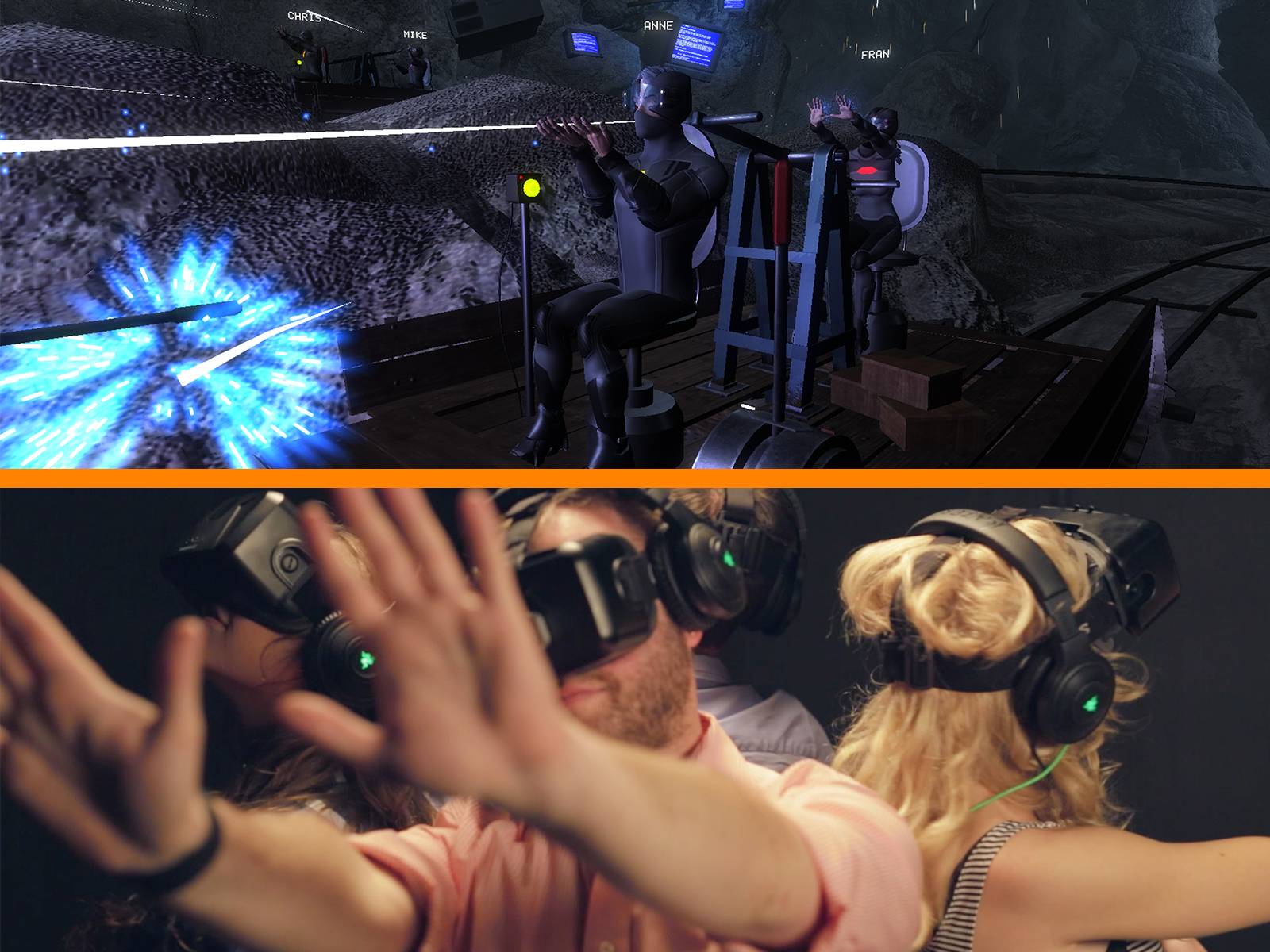 Players become detectives from the future sent deep into the memories of a maniac to investigate the mysterious kidnapping of a child. Players need to solve diabolical, dangerous puzzles to uncover secrets held in the mind of a mad man.
Your guests explore a sabotaged space station flying in zero-gravity, shooting lasers, fighting hostile robots, and collaboratively solving puzzles and working to save Earth.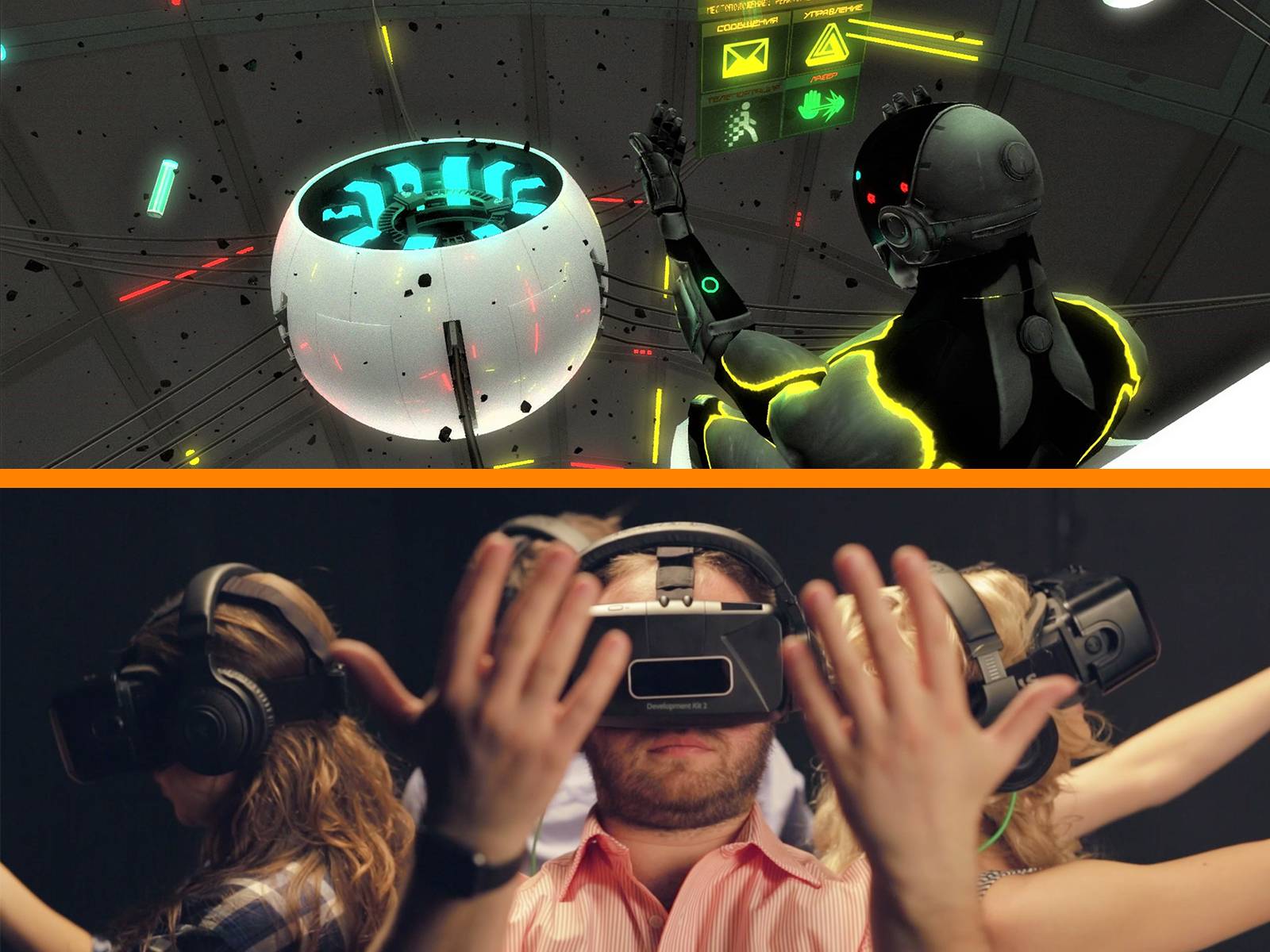 Watch Christal talk about Entermission with escape room influencers - Escape the Roomers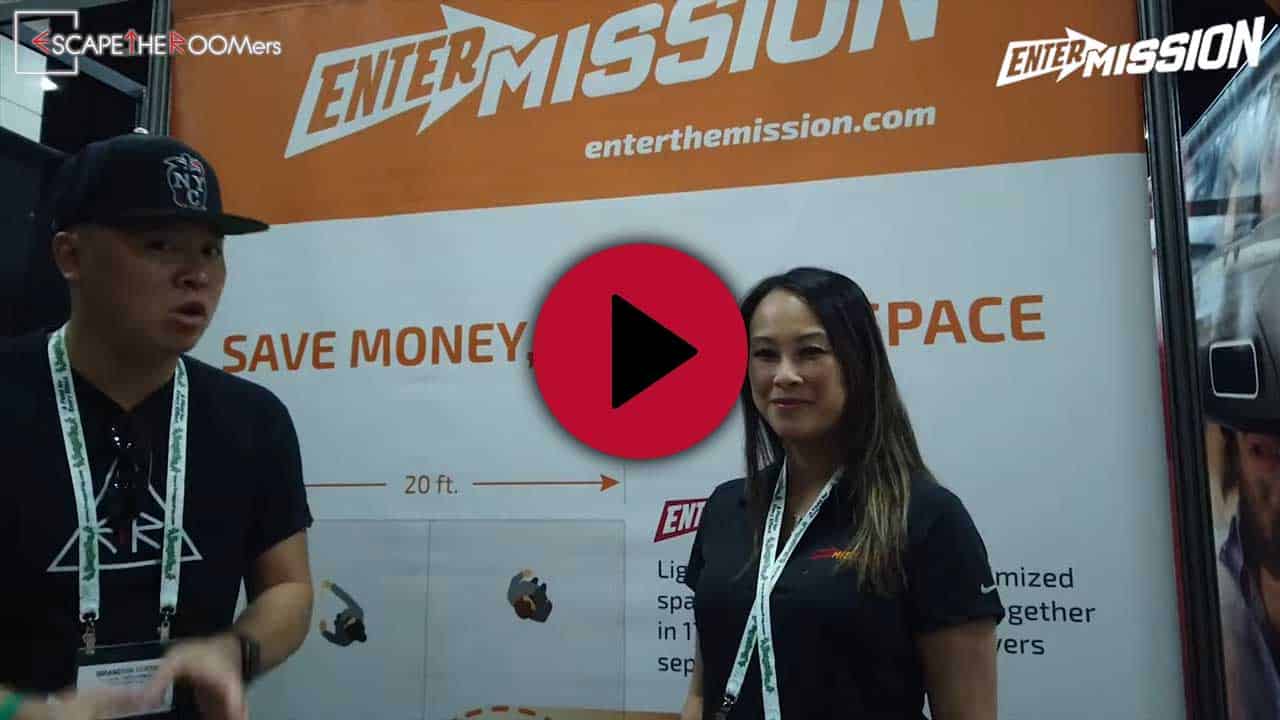 Have more questions before you contact us about a Virtual Reality business opportunity? Read the FAQ Section below.
Frequently Asked Questions
Virtual reality escape rooms are places in which guests can escape the physical world to be transported to other realities to complete challenges in alternate dimensions or scary versions of ours.
They employ the latest technologies in tracking, computing, and visual display to trick your brain into believing that the fantastic is real. VR enables the creation of unique interactive puzzles and other tricks that you just can't do in a physical escape room.
Entermission rooms deliver several advantages over ordinary VR rooms. 6 tricked out Mission Module game seats can fit in a 170 square foot space, allowing six players to play at the same time, in the same place instead of being separated and isolated into a 400 square foot area.
This allows for shared, social, spectacular moments! Entermission also delivers incredible effects to enhance the immersion, like wind and heat on your face, strong vibrations that punctuate the action, and lifelike smells like smoke and gunpowder that will convince you it is real!
Once inside the Entermission room, you'll put on your virtual reality headsets where you'll be transported into another world based on the adventure you have chosen.
You'll have a 360-degree view of the virtual reality world but still see and interact with your team as their virtual reality avatars Your team will need to work together to complete your adventure which could require battling enemies by shooting lasers from your hand, flying through space, finding secret passwords, piecing together puzzles, or uncovering the deepest, darkest secrets of a maniac's mind.
Be delighted by your new world, puzzled by what to do during your adventure and exhilarated as you defeat enemies and solve puzzles together to complete your adventure before time runs out.
If you already have an Escape Room then you likely already know that there are continuing expenses that can mount up fast; like changing a physical room to a new theme can be very expensive. 
However, in order to keep your business earnings high over time, you need to periodically freshen up your content so that players have a new reason to come back and your content doesn't get "dated".
Changing over or creating a new physical escape room takes months (which could mean months of lost revenue), is disruptive to your existing business and can be stressful dealing with contractors who don't complete things on time or don't build things robustly or to your specifications.
Also, your physical rooms likely take up a good deal of space so the prospect of adding a new room may be daunting. Then there's the headache of adjusting your new room's puzzles, replacing props and other items to try and make it more robust to withstand rough customer treatment, not to mention the never ending fixing of elements guests break or replacing worn out items.
Entermission VR Escape Rooms solves these issues and more with the ability to install new games in a matter of hours. No more lost revenue or build headaches!
With Entermission you can switch from one room theme to another instantly and you only need 170 square feet for an incredible 6-person VR Escape Room adventure. You can manage an exciting new Entermission VR room without needing a dedicated attendant because we've taken out many of the issues with physical rooms,  there are much fewer delicate pieces to break, and the downtime between play sessions is next to zero.
Entermission games have fun interactive puzzles to solve and unique elements you can only find with VR, which makes this a great complement to an existing escape room business.
One of the great things about escape rooms is that they are highly immersive, social experiences.
They allow groups of people to escape the ordinary to explore new adventures and even new worlds. VR allows for an extension and an expansion of these features.
In an Entermission adventure, you are working collaboratively with friends to solve puzzles and achieve objectives together against the clock, just like in traditional escape rooms. But, you can also do mindblowing things like floating in zero gravity through a space station and using telekinesis in Space Heroes or fly through the subconscious of a serial killer, and later battling gigantic spiders in Mad Mind.
In traditional and VR-powered escape rooms there are social thrills and shared accomplishments and chances to face your fear, which makes VR a great addition to the world of escape rooms. In an Entermission escape room, you also have things like physical haptics in the seat sending vibrations through players bodies, as well as wind and heat on their faces and the smells like smoke and gunpowder lingering in the air for incredible immersion and memorable moments
Entermission VR Escape Room franchises and licences are available globally.
Entermission currently has a VR franchise in Melbourne Australia and licenced locations in established physical escape rooms in San Ramon, California and Galveston, Texas. New York and Boston locations will be opening in early 2020.
Entermission has the highest profitability and capacity per square feet compared to other VR escape room franchises and licences, with 6 players in 170 square feet compared to over 600 square feet for the equivalent number of players. The VR escape room adventures and additional immersive features create memorable experiences for guests and brings in more guests from word of mouth.
You can own and operate an Entermisssion VR escape room franchise in a new location or licence our VR escape room in your existing FEC, escape room or other entertainment centre to provide your guests with incredible adventures that combine escape room challenges and puzzles with unique interactivity and memorable immersion with hand tracking, haptics that create vibrations you can feel and atmospheric effects like wind and heat, as well as scents like gunpowder and smoke in the air.
Developing your own VR Escape Room game software is a costly, requiring hundreds of thousands of dollars of capital and is a time consuming process, with many difficulties. There is also no guarantee that you'll end up with a game that is fun for players or that would run well with minimal glitches and issues.
The easier and less expensive option is to either franchise an established VR Escape Room or licence VR Escape Room games.
Some licences merely provide you with the software and requires that you source your own hardware and equipment as well as install everything yourself. This can be fraught with issues as virtual reality equipment and the set-up can be difficult, time-consuming and hugely frustrating. Little mistakes in setting up or overlooked equipment or software settings could lead to games and equipment that is unreliable and glitchy. The result is games cannot be run or continual technical glitches causes negative customer experiences, as well as being challenging for the staff trying to run the system.
Having a fully turnkey multi-player VR Escape Room is the ideal choice to minimise issues and get your virtual reality escape room up and running quickly.
Entermission offers a fully turnkey 6 player VR Escape Room where all the equipment is provided as well as physical on-site set-up and training (in the United States and Australia) to ensure everything is set up correctly and staff are well trained on how to operate the game and help customers through the game and troubleshoot any issues that arises. Furthermore, reference videos providing step-by-step guidance, customer briefing videos, marketing materials, operational manuals and ongoing technical, operational and marketing support is also included.
For further details see our article on How To Start A VR Escape Room
A VR Escape Room is like a physical escape room where teams of 2 or more, work together solving a series of puzzles and challenges to complete a particular outcome within a timeframe (usually one hour) so players feel a sense of achievement such as escaping from prison, solving a mystery or masterminding in bank heist.
In addition, with a VR Escape Room like Entermission, thanks to virtual reality technology, players can be projected into fantastic locations they couldn't go to in real life and there is greater immersion where they can really feel like they're in outer space or inside the mind of a killer, rather than just in a physical room made to look like a bank vault or prison. In addition, players can do things they couldn't do in real life like shoot fireballs from their hands to battle giant spiders, swim through the mind of a serial killer or float in zero gravity through a space station, all while seeing the virtual avatar of their friends or family.
The social and teamwork aspects makes VR Escape Rooms and Escape Rooms particularly appealing for team building, schools, parties and general social outings for friends, families and people of all ages and generations to enjoy doing a fun activity together.
From a business perspective, virtual reality escape rooms and physical escape rooms enjoy relatively low set-up costs compared to other businesses and high margins in a market that is growing.  Physical escape rooms have had tremendous growth over the last five years, although the growth has slowed as many places now have multiple physical escape rooms, competing for customers. VR Escape Rooms on the other hand have just started to become popular and now is the perfect time to ride the growth that will occur as more people become exposed to and enjoy virtual reality, creating a demand for the unique immersion provided by VR.
For further details see our articles on What Is A VR Escape Room? and How To Start A VR Escape Room
Starting you own VR business involves many steps from understanding your marketing and competition, deciding what type of VR business you want to finding a location, selecting the games, creating a marketing plan through to execution of the premises build and fit-out, purchasing all the equipment and games, set-up, hiring and training staff as well as creating websites, social media profiles, booking system, merchant facilities and a whole host of other tasks.
For further details see our article on How To Start A VR Escape Room
If you are looking for a turnkey solution that takes out many of the above steps and headaches, Entermission can provide you with a fully turnkey 6 player VR Escape Room where all the equipment is provided as well as physical on-site set-up and training (in the United States and Australia) to ensure everything is set up correctly and staff are well trained on how to operate the game and help customers through the game and troubleshoot any issues that arises. Furthermore, reference videos providing step-by-step guidance, customer briefing videos, marketing materials, operational manuals and ongoing technical, operational and marketing support is also included.
If you are setting up an entirely new business, an Entermission VR Escape Room Franchise may also be available where the website, branding, marketing set up and other aspects are completed for you and you're provided with full guidance and support all the way through.
This means that you can easily (without as much hassle and time invovled) own and operate an Entermisssion-powered escape room location and deliver incredible adventures that combine escape room challenges and puzzles with unique interactivity and memorable immersion.
Entermission VR escape rooms are perfect for parties of all kinds because they are designed to be social, multiplayer, very memorable experiences. Entermission VR rooms are great for kids' birthdays, with content that will be perfect for younger guests, as well as bachelor or bachelorette parties that are looking to do something unique that is a highly social and memorable shared experience.