MAKE MORE MONEY PER SQUARE FOOT
With the addition of Virtual Reality to your escape room business.
Want to own an Entermission VR escape room business? Owning a Entermission franchise provides an attractive, profitable business and enables you to be a pioneer in your area, delivering leading edge entertainment experiences. We are looking for partners in key locations across Australia and globally.
If you are a location operator with existing escape room business (in the United States and elsewhere), you can add high throughput, high ROI Entermission to your existing location by purchasing hardware including the Entermission Mission Module chairs and licensing the amazing Entermission games.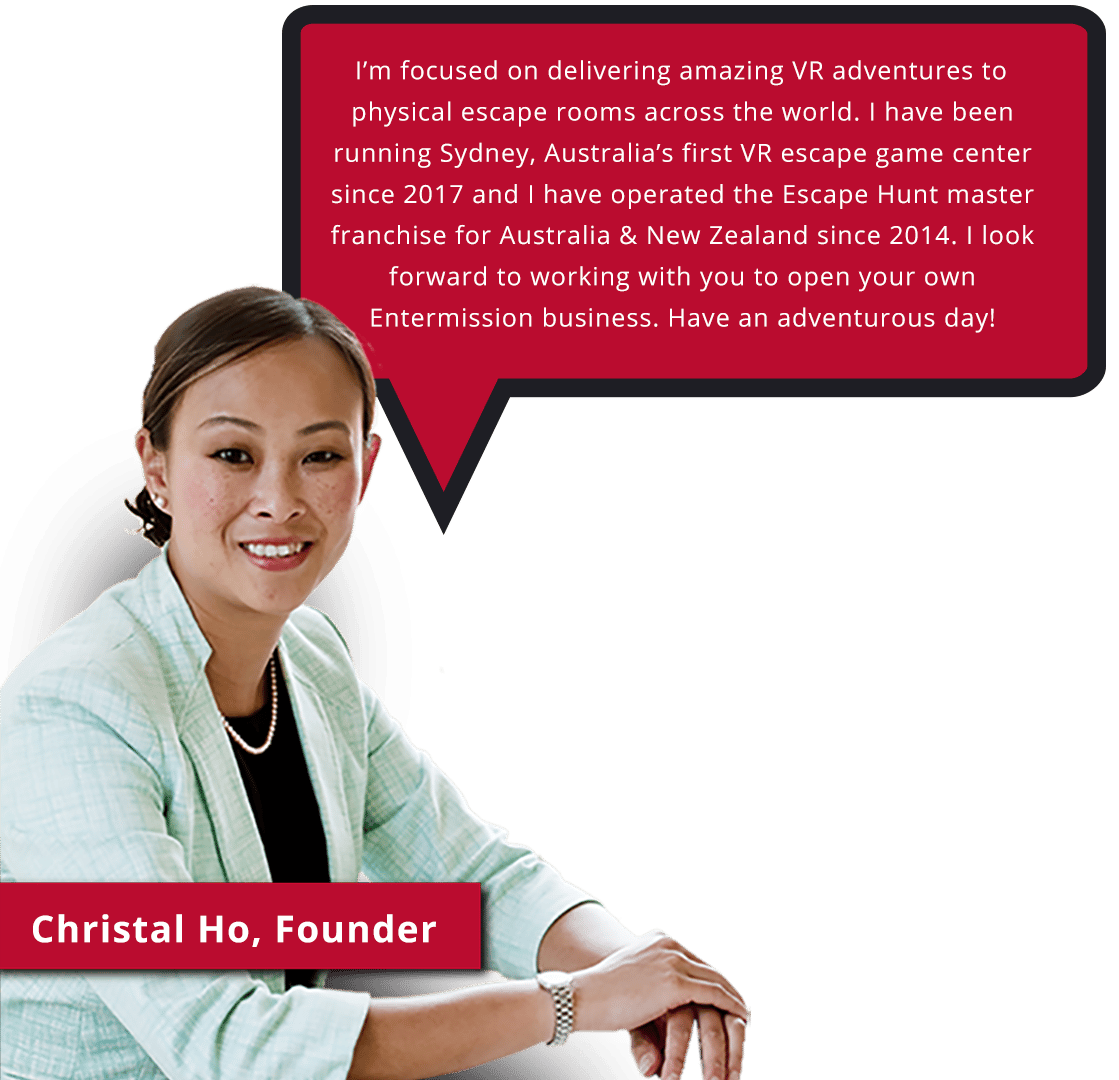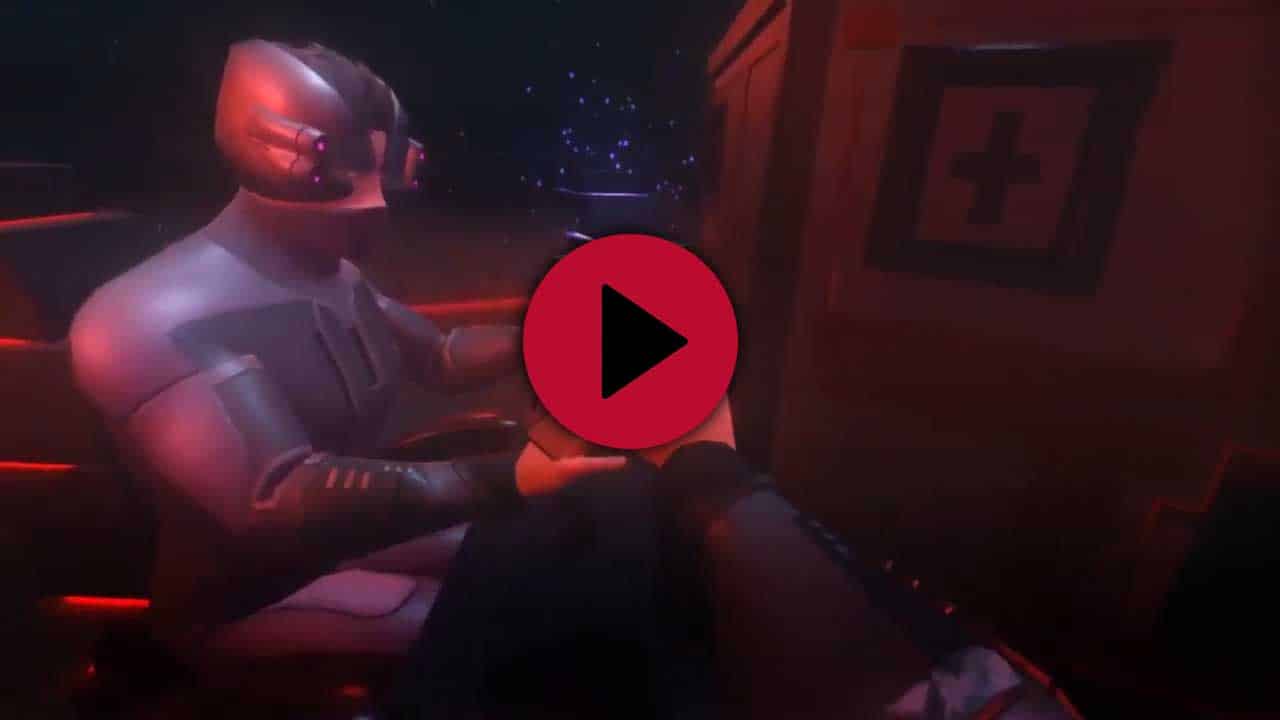 Click image to learn more about Entermission
While other VR escape rooms require 400 square feet for 4 players, Entermission rooms fit 6 players in only 170 square feet. With 50% higher capacity in less than half the physical space, Entermission is the most profitable VR attraction available today for escape room owners.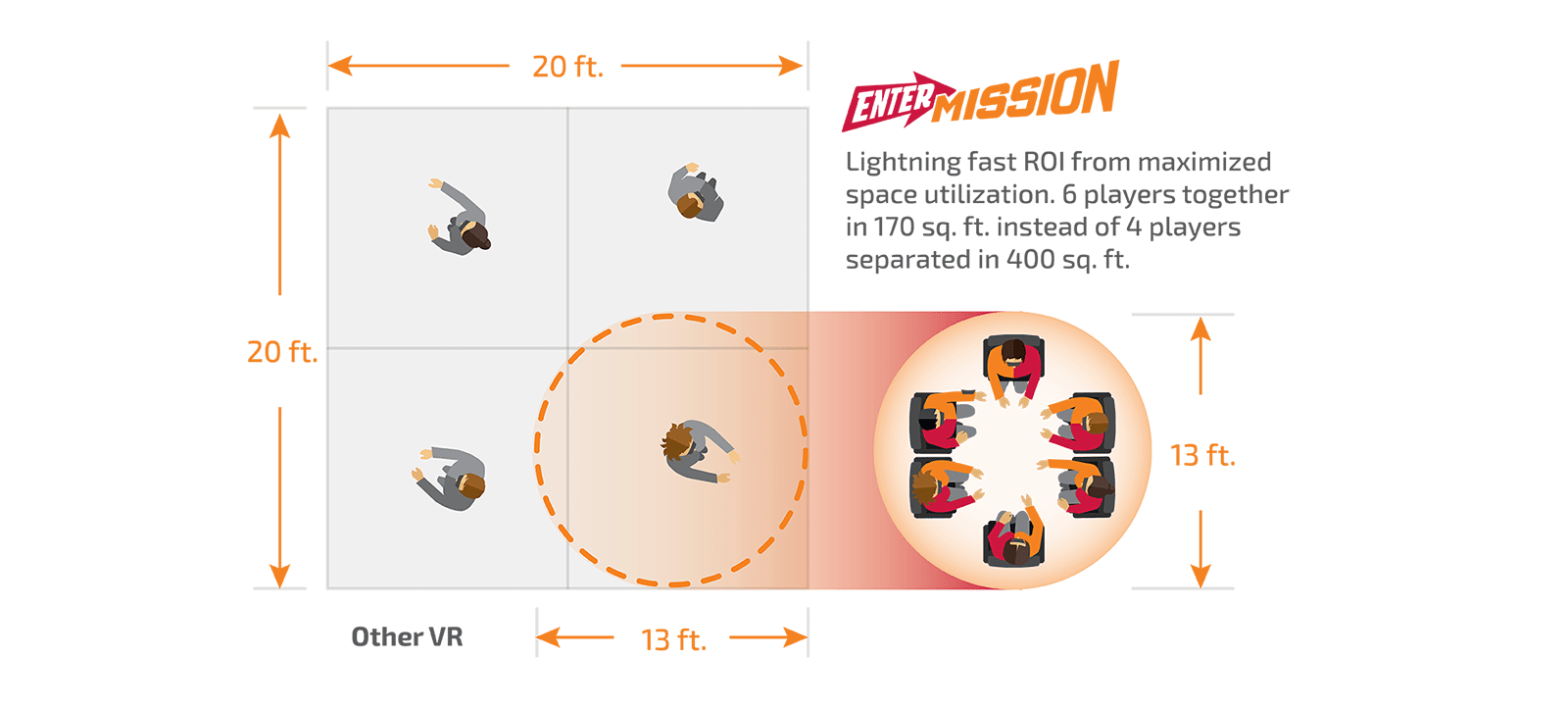 HIGH THROUGHPUT
3x more than other VR Systems

COMPACT
6 players in only 170 sq. ft.

EFFICIENT
No reset or breakage, Less Labor

BREATHTAKING
Wind, Heat, Scents and Vibrations
The key components of Entermission's consumer experience include the unique Mission Modules, high-end gaming chairs, and incredible enviornmental effects designed to dramatically enhance player immersion.

Buttkicker LFE Haptics
Integrated into the seats for vibrations and intesnse realism you can feel.

Leap Motion Hand Tracking
Best-in-class hand tracking allows players to use their bare hands in VR for immersive puzzle solving and boss fights.

OLORAMA Scent Generator
Gunpowder, smoke, fire and more..your guests will swear it's real.

VR Core w/ i7 8700 CPU
And nVidia RTX card future-proofs your investment.

HTC Vive Pro Headsets
Your players experience room-scale precision tracking. Vibrant screen colors. Incredibly high contrast and realistic sounds.

Wind and Heat Generator
For memorable and increadible moments.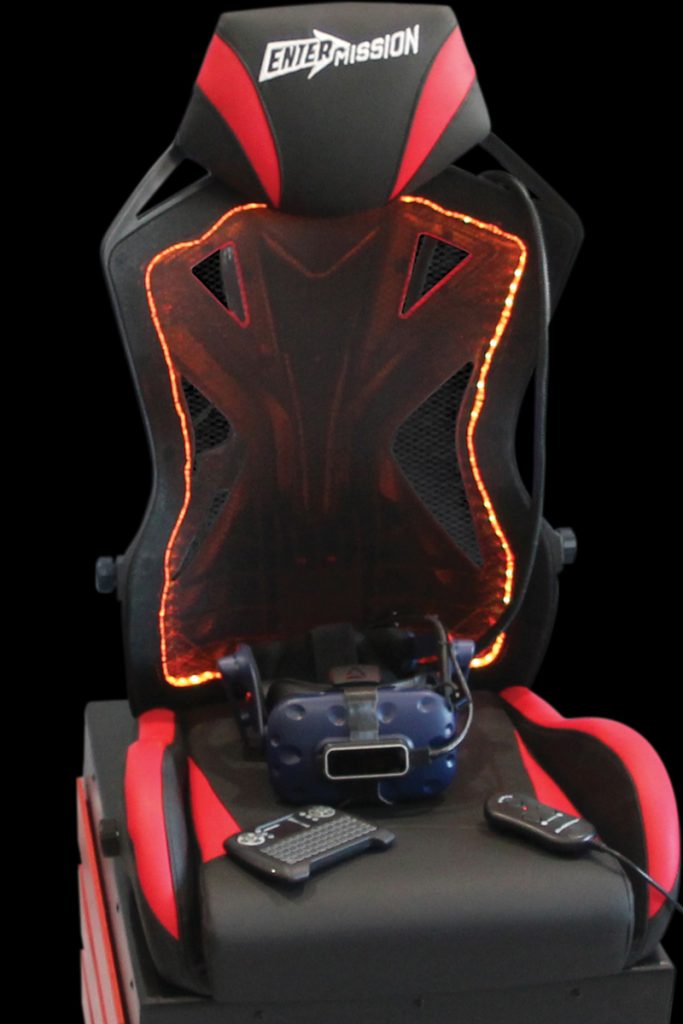 Entermission provides social VR adventures designed to appeal to a wide audience, from kids (8+) to grown-up gamers. There are immersive exciting games with challenging, collaborative puzzles and amazing action for all types of groups. It's perfect for fun with friends and family or unique team building with squads of coworkers. This is proven, crowd pleasing content that will attract the largest number and range of guests so you can maximize your revenue.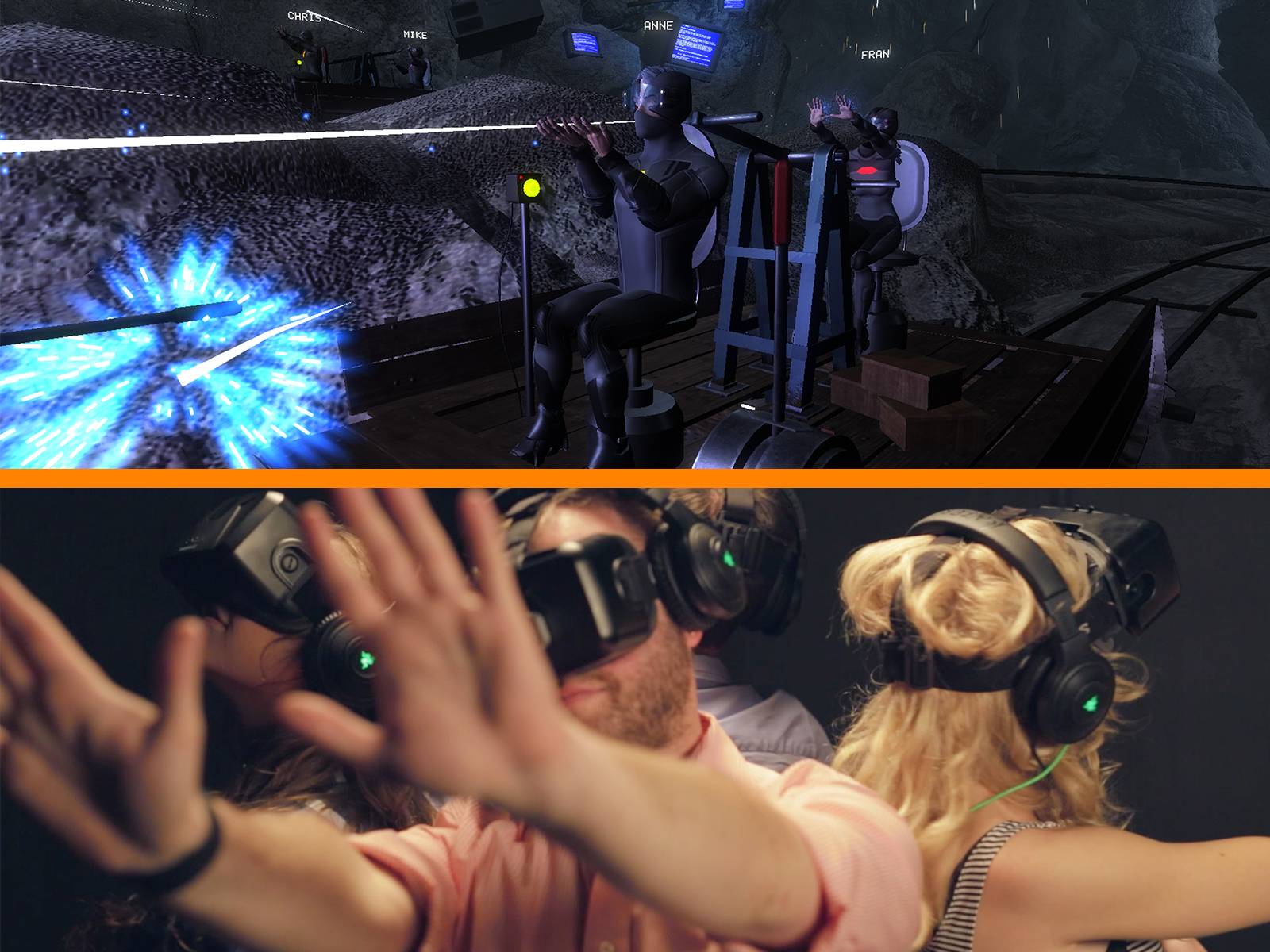 Players become detectives from the future sent deep into the memories of a maniac to investigate the mysterious kidnapping of a child. Players need to solve diabolical, dangerous puzzles to uncover secrets held in the mind of a mad man.
Your guests explore a sabotaged space station flying in zero-gravity, shooting lasers, fighting hostile robots, and collaboratively solving puzzles and working to save Earth.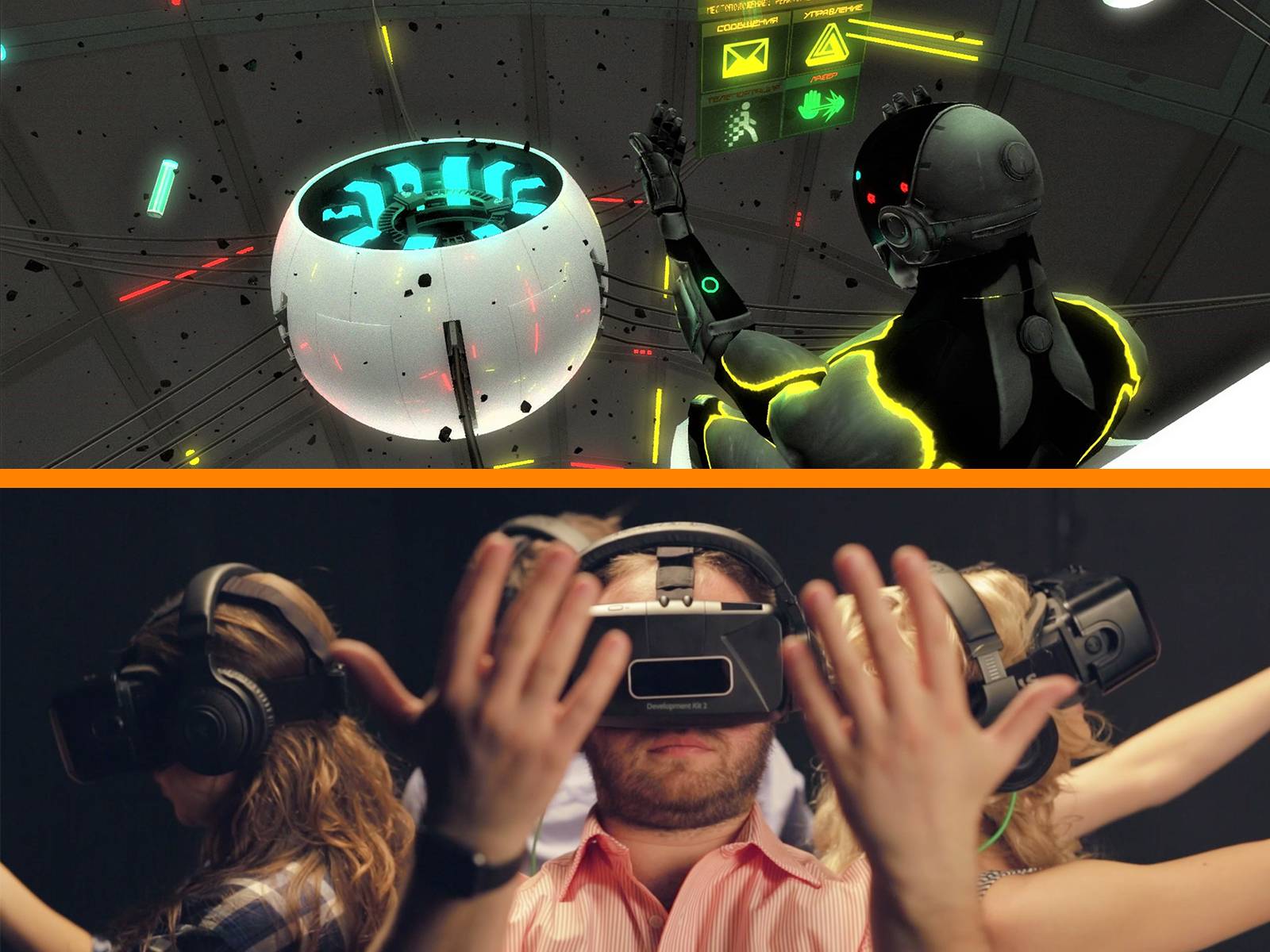 Watch Christal talk about Entermission with escape room influencers - Escape the Roomers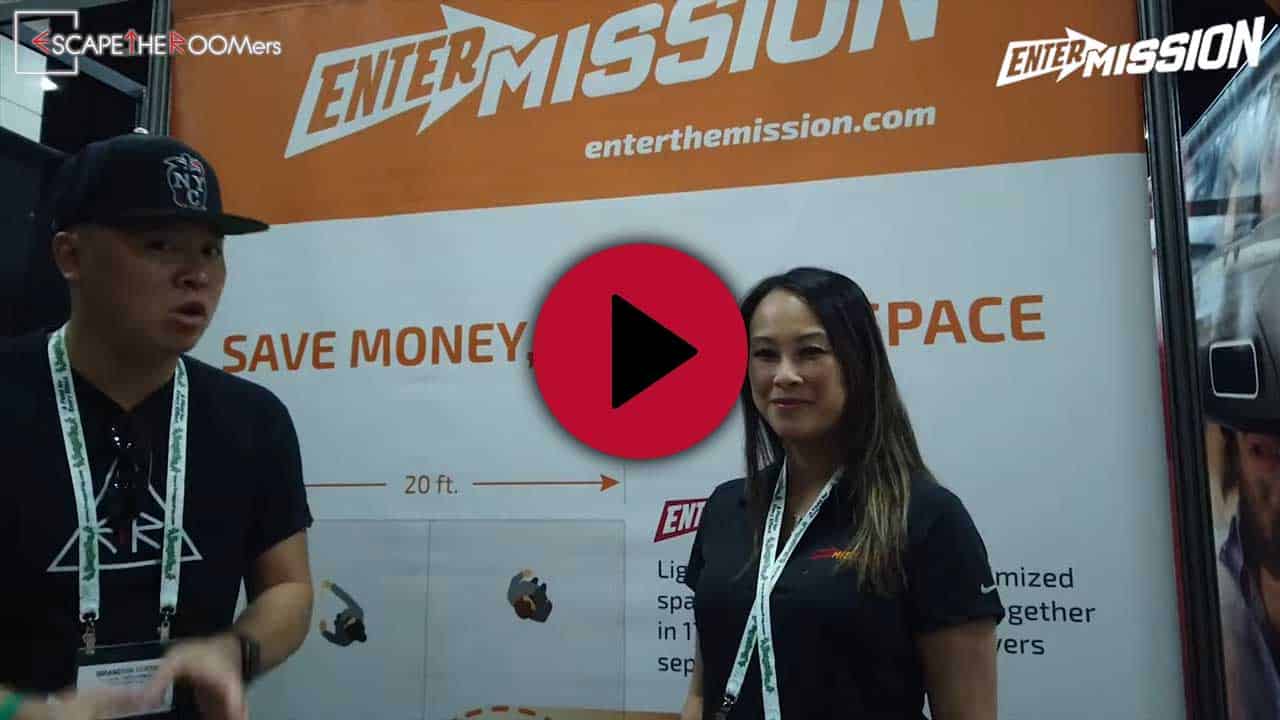 Have more questions before you contact us about a Virtual Reality business opportunity? Read the FAQ Section below.
Frequently Asked Questions
Virtual reality escape rooms are places in which guests can escape the physical world to be transported to other realities to complete challenges in alternate dimensions or scary versions of ours.
They employ the latest technologies in tracking, computing, and visual display to trick your brain into believing that the fantastic is real. VR enables the creation of unique interactive puzzles and other tricks that you just can't do in a physical escape room.
Entermission rooms deliver several advantages over ordinary VR rooms. 6 tricked out Mission Module game seats can fit in a 170 square foot space, allowing six players to play at the same time, in the same place instead of being separated and isolated into a 400 square foot area.
This allows for shared, social, spectacular moments! Entermission also delivers incredible effects to enhance the immersion, like wind and heat on your face, strong vibrations that punctuate the action, and lifelike smells like smoke and gunpowder that will convince you it is real!
Once inside the Entermission room, you'll put on your virtual reality headsets where you'll be transported into another world based on the adventure you have chosen.
You'll have a 360-degree view of the virtual reality world but still see and interact with your team as their virtual reality avatars Your team will need to work together to complete your adventure which could require battling enemies by shooting lasers from your hand, flying through space, finding secret passwords, piecing together puzzles, or uncovering the deepest, darkest secrets of a maniac's mind.
Be delighted by your new world, puzzled by what to do during your adventure and exhilarated as you defeat enemies and solve puzzles together to complete your adventure before time runs out.