MAKE MORE MONEY PER SQUARE FOOT
With the addition of Virtual Reality to your escape room business.
Want to own an Entermission VR escape room business? Owning a Entermission franchise provides an attractive, profitable business and enables you to be a pioneer in your area, delivering leading edge entertainment experiences. We are looking for partners in key locations across Australia and globally.
If you are a location operator with existing escape room business (in the United States and elsewhere), you can add high throughput, high ROI Entermission to your existing location by purchasing hardware including the Entermission Mission Module chairs and licensing the amazing Entermission games.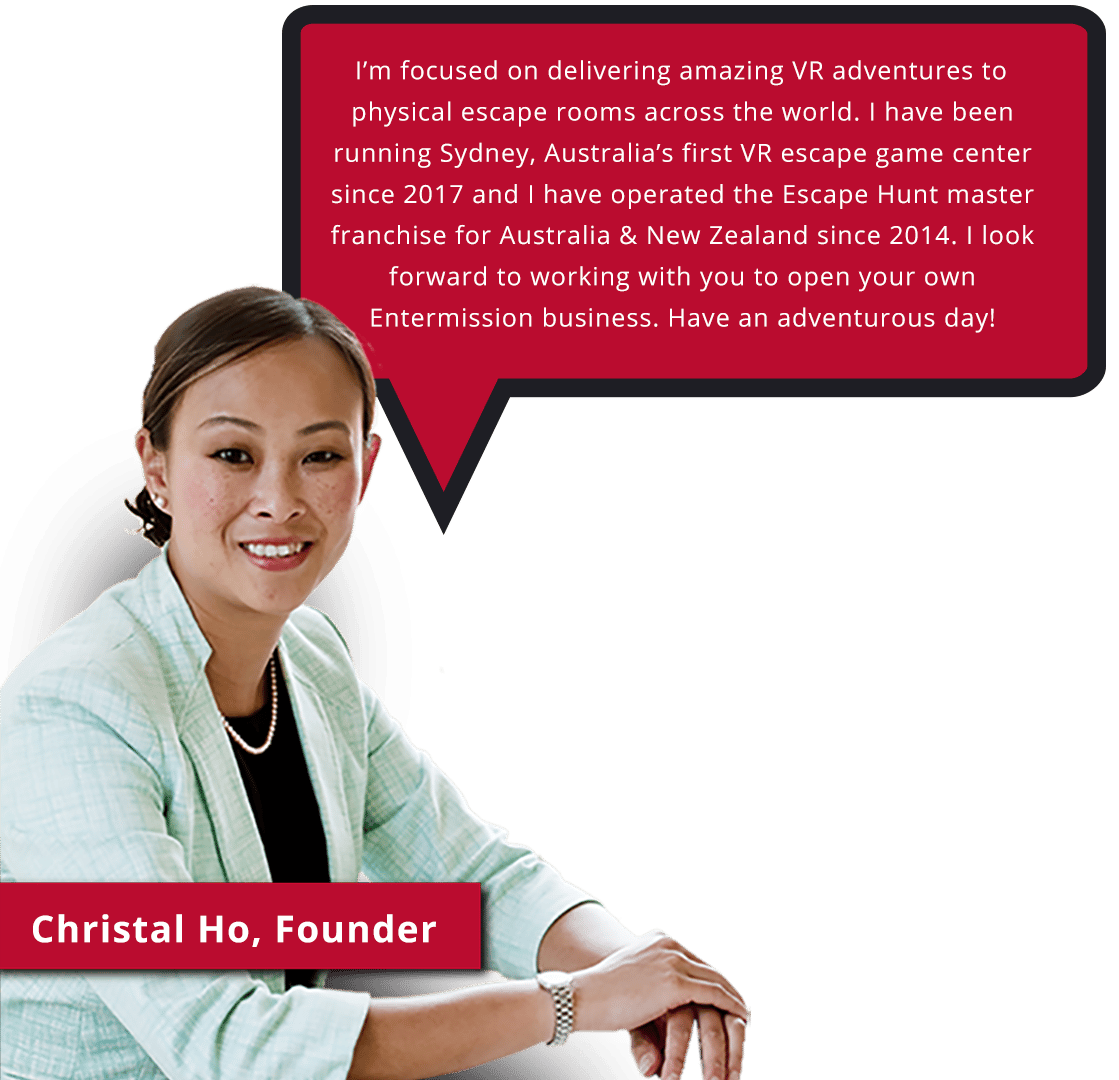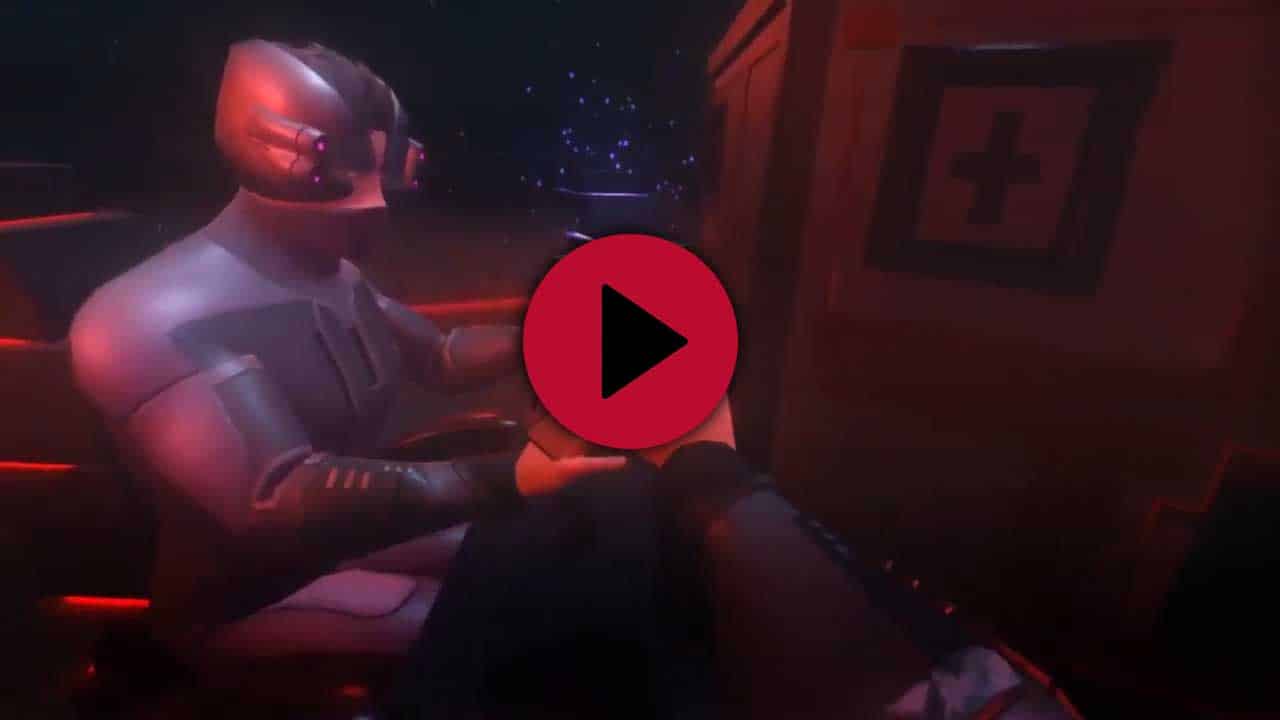 Click image to learn more about Entermission
While other VR escape rooms require 400 square feet for 4 players, Entermission rooms fit 6 players in only 170 square feet. With 50% higher capacity in less than half the physical space, Entermission is the most profitable VR attraction available today for escape room owners.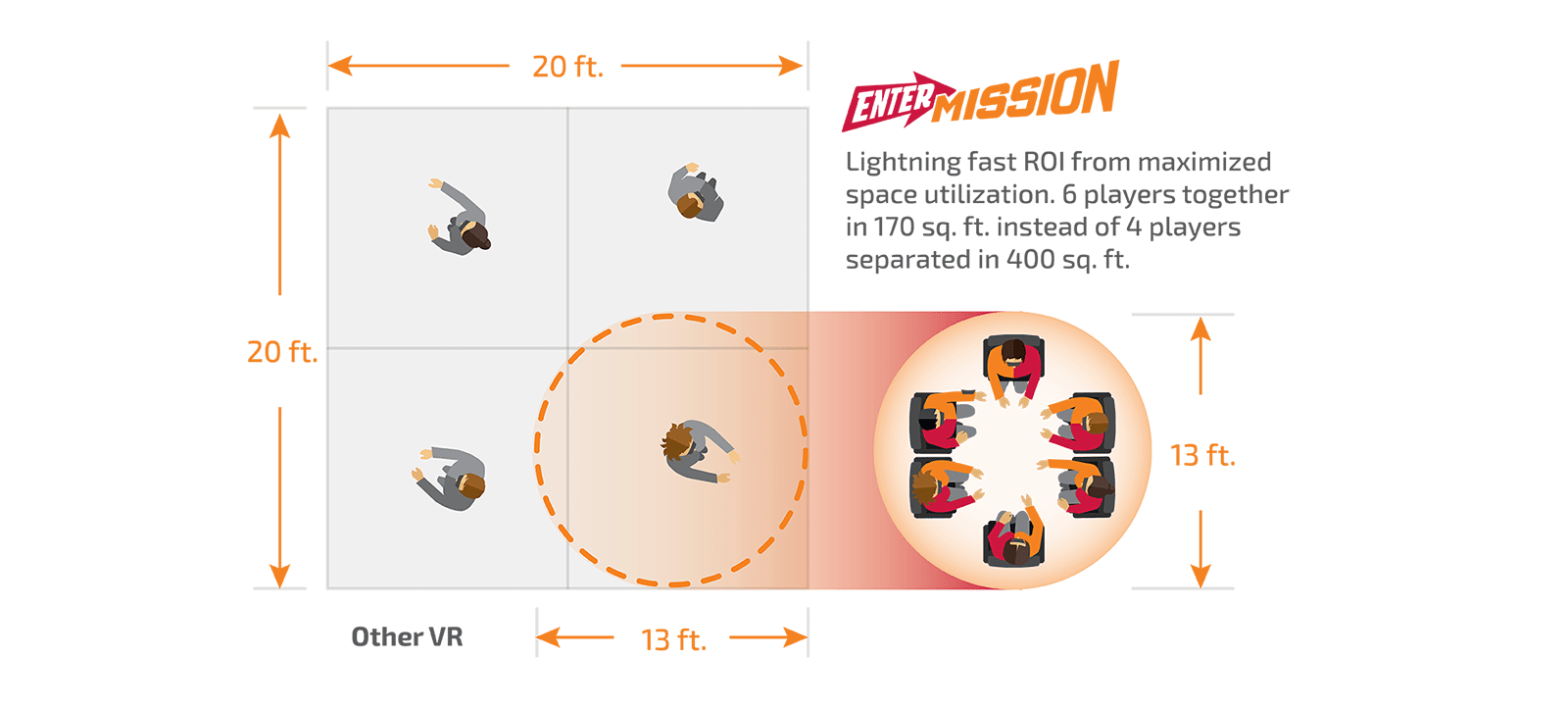 HIGH THROUGHPUT
3x more than other VR Systems

COMPACT
6 players in only 170 sq. ft.

EFFICIENT
No reset or breakage, Less Labor

BREATHTAKING
Wind, Heat, Scents and Vibrations
The key components of Entermission's consumer experience include the unique Mission Modules, high-end gaming chairs, and incredible enviornmental effects designed to dramatically enhance player immersion.

Buttkicker LFE Haptics
Integrated into the seats for vibrations and intesnse realism you can feel.

Leap Motion Hand Tracking
Best-in-class hand tracking allows players to use their bare hands in VR for immersive puzzle solving and boss fights.

OLORAMA Scent Generator
Gunpowder, smoke, fire and more..your guests will swear it's real.

VR Core w/ i7 8700 CPU
And nVidia RTX card future-proofs your investment.

HTC Vive Pro Headsets
Your players experience room-scale precision tracking. Vibrant screen colors. Incredibly high contrast and realistic sounds.

Wind and Heat Generator
For memorable and increadible moments.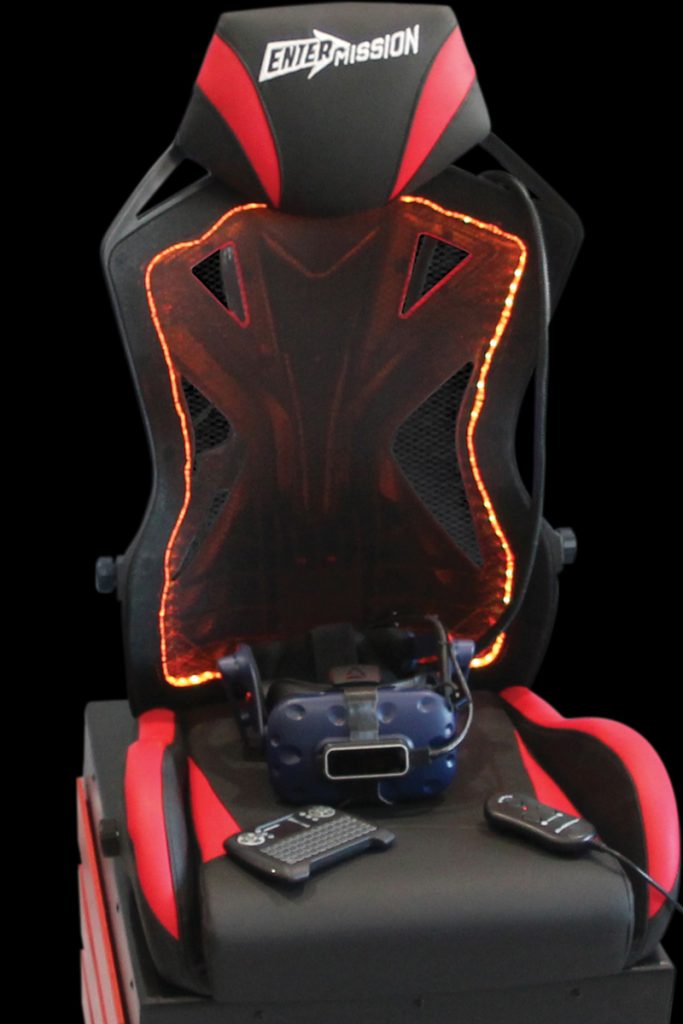 Entermission provides social VR adventures designed to appeal to a wide audience, from kids (8+) to grown-up gamers. There are immersive exciting games with challenging, collaborative puzzles and amazing action for all types of groups. It's perfect for fun with friends and family or unique team building with squads of coworkers. This is proven, crowd pleasing content that will attract the largest number and range of guests so you can maximize your revenue.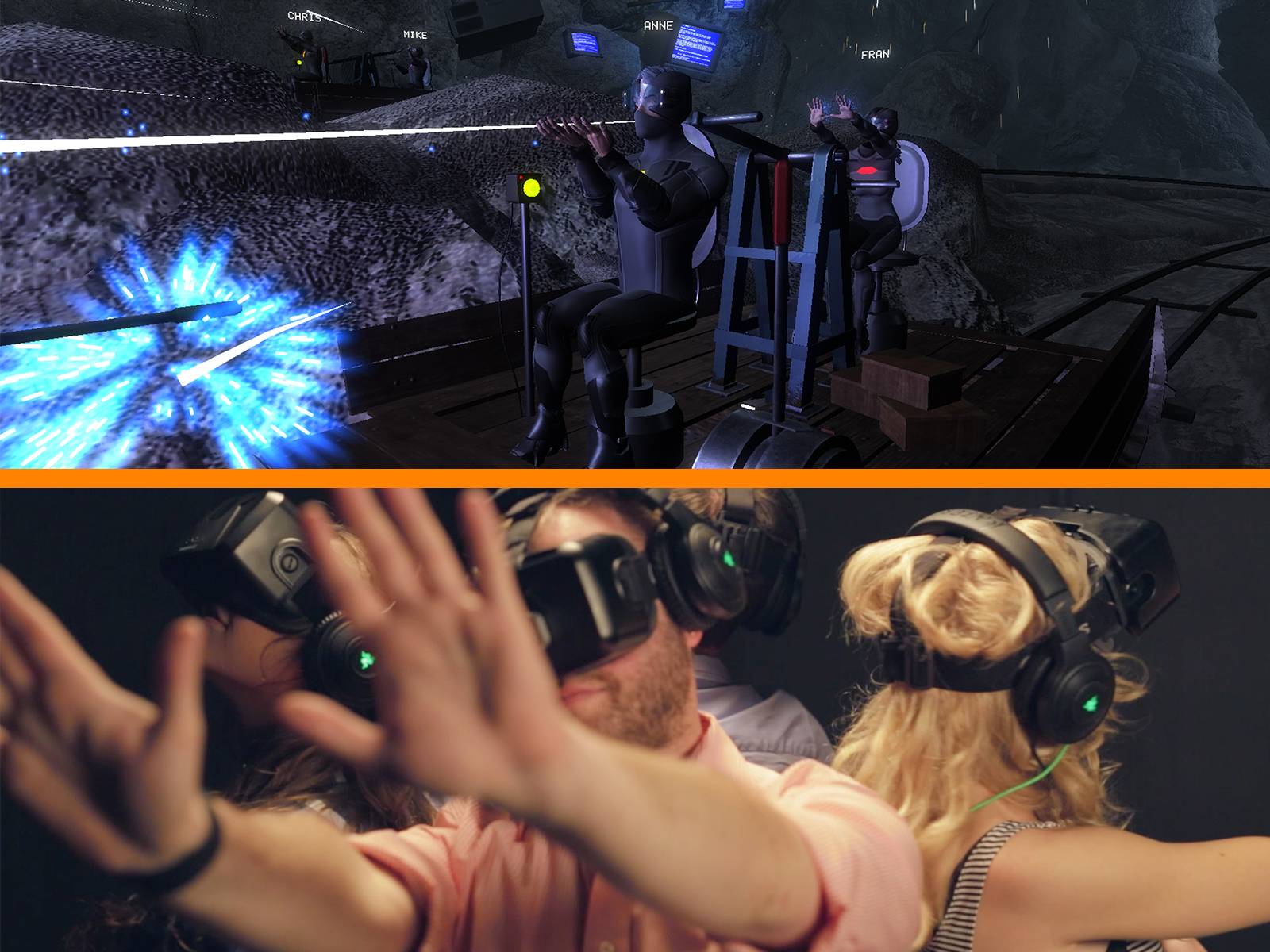 Players become detectives from the future sent deep into the memories of a maniac to investigate the mysterious kidnapping of a child. Players need to solve diabolical, dangerous puzzles to uncover secrets held in the mind of a mad man.
Your guests explore a sabotaged space station flying in zero-gravity, shooting lasers, fighting hostile robots, and collaboratively solving puzzles and working to save Earth.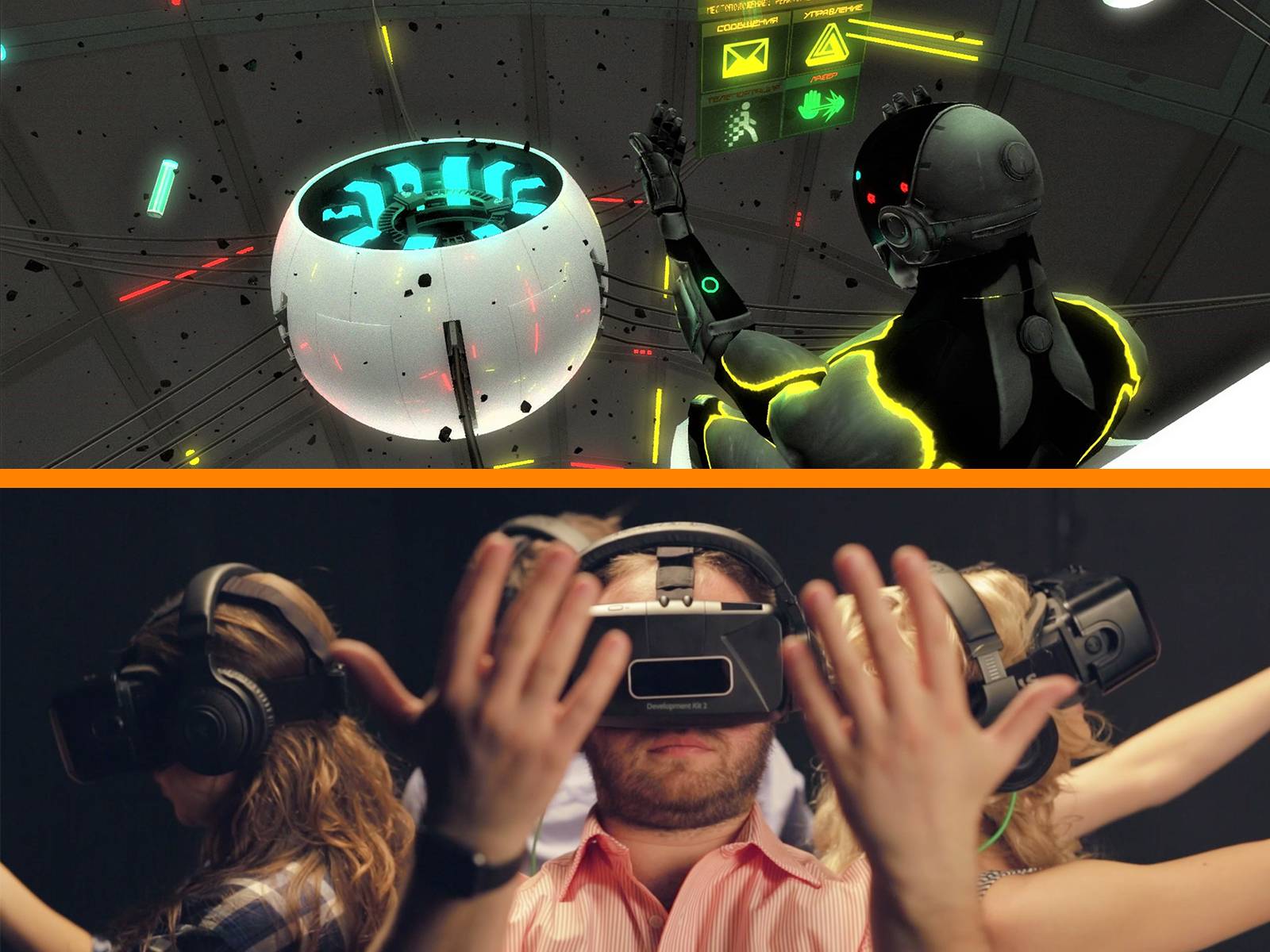 Watch Christal talk about Entermission with escape room influencers - Escape the Roomers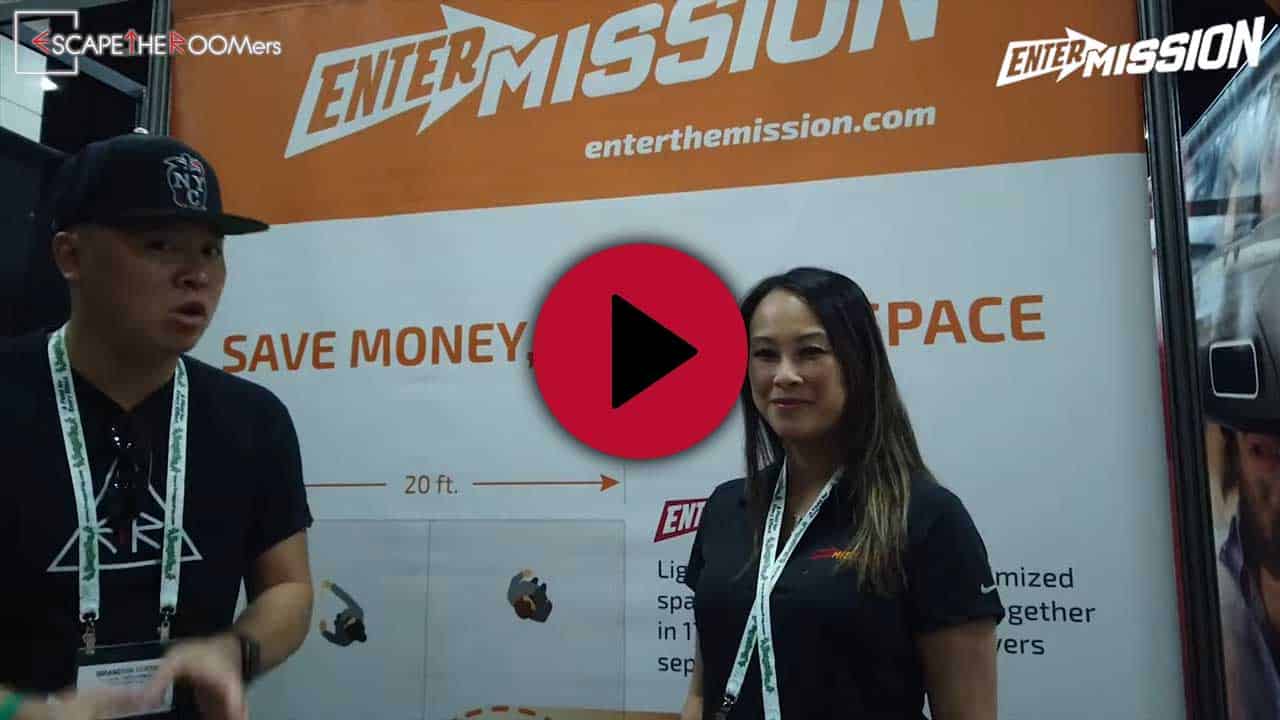 Have more questions before you contact us about a Virtual Reality business opportunity? Read the FAQ Section below.
Frequently Asked Questions
Virtual reality escape rooms are places in which guests can escape the physical world to be transported to other realities to complete challenges in alternate dimensions or scary versions of ours.
They employ the latest technologies in tracking, computing, and visual display to trick your brain into believing that the fantastic is real. VR enables the creation of unique interactive puzzles and other tricks that you just can't do in a physical escape room.
Entermission rooms deliver several advantages over ordinary VR rooms. 6 tricked out Mission Module game seats can fit in a 170 square foot space, allowing six players to play at the same time, in the same place instead of being separated and isolated into a 400 square foot area.
This allows for shared, social, spectacular moments! Entermission also delivers incredible effects to enhance the immersion, like wind and heat on your face, strong vibrations that punctuate the action, and lifelike smells like smoke and gunpowder that will convince you it is real!
Once inside the Entermission room, you'll put on your virtual reality headsets where you'll be transported into another world based on the adventure you have chosen.
You'll have a 360-degree view of the virtual reality world but still see and interact with your team as their virtual reality avatars Your team will need to work together to complete your adventure which could require battling enemies by shooting lasers from your hand, flying through space, finding secret passwords, piecing together puzzles, or uncovering the deepest, darkest secrets of a maniac's mind.
Be delighted by your new world, puzzled by what to do during your adventure and exhilarated as you defeat enemies and solve puzzles together to complete your adventure before time runs out.
If you already have an Escape Room then you likely already know that there are continuing expenses that can mount up fast; like changing a physical room to a new theme can be very expensive. 
However, in order to keep your business earning well over time, you need to periodically freshen up your content so that players have a new reason to come back and your content doesn't get "dated". Also, your physical rooms likely take up a good deal of space so the prospect of adding a new room may be daunting. And the combination of hiring and training new staff, along with fixing room elements that guests break and it can become Entermission VR Escape Rooms solve many of these issues and more.
With Entermission you can switch from one room theme to another instantly and you only need 170 square feet for an incredible 6-person VR Escape Room adventure. You can manage an exciting new Entermission VR room without needing a dedicated attendant because we've taken out many of the issues with physical rooms,  there are much fewer delicate pieces to break, and the downtime between play sessions is next to zero.
Entermission games have fun interactive puzzles to solve and unique elements you can only find with VR, which makes this a great complement to an existing escape room business.
One of the great things about escape rooms is that they are highly immersive, social experiences.
They allow groups of people to escape the ordinary to explore new adventures and even new worlds. VR allows for an extension and an expansion of these features. Videogame publisher Ubisoft sees so much potential in VR escape room games that they have a whole division called Blue Byte devoted to publishing virtual escape room games for VR arcades In an Entermission adventure, you are working collaboratively with friends to solve puzzles and achieve objectives together against the clock, just like in traditional escape rooms. But, you can also do mindblowing things like floating in zero gravity through a space station and using telekinesis in Space Heroes or fly through the subconscious of a serial killer, and later battling gigantic spiders in Mad Mind.
In traditional and VR-powered escape rooms there are social thrills and shared accomplishments and chances to face your fear, which makes VR a great addition to the world of escape rooms. In an Entermission escape room, you also have things like physical haptics in the seat sending vibrations through players bodies, as well as wind and heat on their faces and the smells like smoke and gunpowder lingering in the air for incredible immersion and memorable moments
There are a few companies in the United States that specialize in VR franchises (including Ctrl V and Private Label VR) and several that offer escape room franchises (like Escapeology, Fox in the Box, and Paniq) but we are unaware of any that offer VR Escape Room franchises, especially ones designed by escape room pros with additional immersive features.
That said, while due to legal and business reasons there are not Entermission franchise, you can own and operate an Entermisssion-powered escape room location and deliver your guests incredible adventures that combine escape room challenges and puzzles with unique interactivity and memorable immersion with hand tracking, haptics that create vibrations you can feel and atmospheric effects like wind and heat, as well as scents like gunpowder and smoke in the air.
You could create your own VR escape room using off-the-shelf VR tracking hardware and content, such as Ubisoft's escape games. However, these kinds of VR setups usually require each player to play in their own 10' X 10' space, so they aren't very social and the space required can be costly.
By way of contrast, Entermisssion offers a unique setup that allows 6 players to play at the same time in the same place.  AND that place is a space as small as 170 square feet, allowing for terrific throughout and ROI potential.
Entermission VR escape rooms combine elements of escape rooms - they are social, immersive, challenging and feature puzzles - with experiences that are truly unique thanks to virtual reality technology.
In Entermisssion, we use hand tracking, which makes your hands the controllers in your game, This enables you to do fantastic things like fly and use telekinesis to solve puzzles. 
You can also swim through the mind of a serial killer and fight spiders and snakes or you can float in zero gravity through a space station, all while seeing the virtual avatar of your friends or family. These are great collaborative experiences, which are perfect for corporate team building or after work bonding event
You can search your local area for VR business opportunities to see if there are already VR arcades in the region.
If you don't have a VR-based business nearby you can look into possible franchise opportunities with companies like Ctrl V and Private Label VR or you can research how to set up your own VR arcade using resources online, such as this article from VR operations company SpringboardVR - https://medium.com/@springboardVR/starting-a-vr-arcade-b07e93d5a592.
If you are looking for something unique, you can own and operate an Entermisssion-powered escape room location and deliver incredible adventures that combine escape room challenges and puzzles with unique interactivity and memorable immersion.
Entermission VR escape rooms are perfect for parties of all kinds because they are designed to be social, multiplayer, very memorable experiences. Entermission VR rooms are great for kids' birthdays, with content that will be perfect for younger guests, as well as bachelor or bachelorette parties that are looking to do something unique that is a highly social and memorable shared experience.